12 Palestinians Killed in Israeli Terrorist Air Strikes on Gaza Wednesday, Raising Death Toll to 150 and Injuries to 1,100


November 21, 2012
| | |
| --- | --- |
| Arab League Secretary-General, Nabeel Al-Arabi, led a delegation to Gaza in solidarity with the Palestinian people | Turkish foreign minister, Ahmed Dawood Uglu, crying at seeing the murdered and injured Palestinian children and women at Shifa Hospital in Gaza City yesterday. |
12 Palestinians have been killed in renewed Israeli terrorist air strikes on Gaza City today, raising the death toll to 150 and injuries to more than 1,100, on November 21, 2012, 11:00 am ET, according to Aljazeera Arabic TV channel.
Directly after the bus explosion in Tel Aviv, the Israeli terrorist forces launched 25 missile attacks on Gaza City, which will result in more deaths and injuries among the captive Palestinian population in Gaza (Editor).
Gaza death toll rises to 138 and keeps mounting
[ 21/11/2012 - 12:10 PM ]
GAZA, (PIC)--
One Palestinian civilian was killed and many others suffered injuries in an Israeli air raid at nine o'clock in the morning on a populated area in the vicinity of Shafei Mosque, east of Jabaliya district.
Many Palestinian civilians have been killed since the early morning of today in different Gaza areas. A young man was also proclaimed dead of serious wounds he had sustained a few days ago in an aerial attack on Gaza city.
Consequently, the death toll has soared to 138 victims until the reporting moment and is expected to rise as Israel is persisting in its deadly aerial and artillery attacks on the densely-populated enclave.
More than 1, 100 Palestinians, mostly civilians and children, have also sustained injuries so far.
The Palestinian information center (PIC) published on Wednesday a report in Arabic containing the names of the 138 killed since Israel's escalated its violence.
For its part, the Palestinian health ministry in Gaza said Israel's violations against the medical personnel and vehicles have led to the killing of one paramedic and the destruction of six ambulances.
It added that Israel's aerial attacks also inflicted damage on different medical infrastructure belonging to civilians, the health ministry, the Red Cross and the UNRWA.
21 Palestinians Killed In Gaza Tuesday, 137 in last 7 days
Tuesday November 20, 2012 23:53 by Saed Bannoura - IMEMC & Agencies
Despite talks about truce and mediation, Israeli soldiers continued to bombard Gaza, Tuesday, and killed 21 Palestinians in different parts of the coastal region, while dozens of civilians have been injured. At Least 137 Palestinians, mainly children and civilians, have been killed since last Wednesday, while more than 950 have been injured.

Medical sources reported that Ahmad Abed Abu Mor, and his brother Khaled, when the army bombarded Rafah, in the southern part of the Gaza Strip.

The attack happened shortly after the army killed Mohammad Abu Aisha, head of the Al-Quds Educational Radio. Resident Hasan Yousef died of wounds suffered earlier in an Israeli bombardment targeting DIr Al-Balah.

Two residents were immediately killed in the attack; they were identified as Salem Ayesh Abu Sitta, and his brother Mohammad.

Two Palestinian journalists, working for the Al-Aqsa Satellite TV, were killed earlier when the army fired a missile at their vehicle, west of Gaza City; two residents were injured in the attack.

Two children were also killed, and three were injured, when the army bombarded Kashko Street in Gaza. Another resident was killed in Beit Hanoun.

At least 950 Palestinians have been injured since the Israeli offensive on Gaza started last Wednesday, the vast majority of the victims are civilians, including infants, children, women and elderly,
Five Palestinians injured in night raids on Gaza
[ 21/11/2012 - 10:39 AM ]
GAZA, (PIC)--
Five Palestinian citizens were injured on Tuesday night in renewed Israeli aerial strikes on the Gaza Strip, local sources said.
They told Quds Press that Israeli warplanes bombed a deserted area to the west of the Palestinian legislative council's premises injuring three Palestinians.
They added that in another raid the warplanes blasted a house for Mane family to the northwest of Gaza city wounding two inhabitants.
The sources said that Israeli warplanes fired a number of missiles at an empty land lot to the north of the Strip and raided tunnels along the Gaza-Egypt borders to the south of the Strip without any casualties reported.
Israeli air force bombs government buildings, media overnight; Israel refuses truce terms
Wednesday November 21, 2012 09:52 by Saed Bannoura - IMEMC News
The Israeli military has reported dropping over 100 bombs on Gaza overnight Tuesday and into Wednesday, including government buildings and media offices. The Abu Khadra government building in Gaza City was hit repeatedly, and the headquarters of Agence France Presse in Gaza City was also bombed.

The Al Jazeera office in Gaza City was damaged, and Press TV reports that its correspondent Akram al-Sattari was injured. One airstrike on Wednesday morning hit a group of civilians next to Shafi mosque.

The number of casualties from the late night bombings is still unknown, although the two victims of one of the 100 airstrikes Tuesday night were identified as Ahmad Hamad and Mahmoud Al-Arja , whose bodies were blown apart by an airstrike on their vehicle at around 11:45 pm in Al-Shouka area western Rafah. Journalist Samah Saleh reported that Ibrahim Hamad, 15, and 16-year-old Mahmoud al-Arja bled to death and the medics from the Red Crescent couldn't reach them for four hours.

Five Israeli soldiers were reportedly wounded by a Palestinian homemade shell overnight.

Palestinian police headquarters were destroyed by Israeli airstrikes in Khan Younis, along with several nearby buildings, the al-Karama security compound near Rafah was severely damaged, and the Interior Ministry building was destroyed. In addition, a major bridge linking Gaza City with the southern Gaza Strip was destroyed by an airstrike.

Sixteen separate airstrikes targeted tunnels near Rafah, which serve as a lifeline for bringing in goods banned by Israel – including fuel, electric and building supplies.

Also overnight in Gaza, six alleged collaborators with Israel were shot by unknown gunmen. At least one was accused of marking buildings as targets for Israeli airstrikes. The killings were condemned by Hamas deputy chief Mousa Abu Marzouk, who vowed that such killings must never happen again.

The international hacker collective 'Anonymous' continued its cyber attacks on Israeli websites throughout the night, as well. Over the last week at least one hundred Israeli government, military and business websites have been targeted. At around 3 am Wednesday morning, hackers hijacked the Twitter account of Israeli Deputy Prime Minister Silvan Shalom, tweeting "END THE OCCUPATION. FREE PALESTINE" and "PALESTINE WE LOVE YOU".

In political developments, Egyptian government officials attempting to negotiate a truce between Israel and Hamas have thus far been unsuccessful. Hamas officials had announced on Tuesday that they were willing to agree to the terms of a ceasefire, but Israeli officials refused the terms.

Over the last week of the Israeli assault on Gaza, 143 Palestinians have been killed, and over 950 wounded. Of the 143 people killed in the last week by the Israeli military, only six have been identified as being resistance fighters. One quarter of those killed have been children, including at least three families (parents and children) wiped out.
Another Family Killed By Israeli Airstrike Monday Evening
Tuesday November 20, 2012 00:30 by Saed Bannoura - IMEMC News
After airstrikes both Saturday and Sunday that killed entire families including parents, grandparents and small children, another airstrike on a home in northern Gaza Monday evening killed a mother, father and their two children.
Monday evening's attack hit the home of Foad & Amna Hijazi and their two children Suhaib and Muhammad. They were all killed instantly.

Twelve neighbors were also injured in the attack, which took place in Beit Lahiya. Around the same time in southern Gaza, four people were wounded by an airstrike targeting a civilian area in Rafah, including a mother and small child.

The airstrikes Monday evening followed an earlier round of strikes that killed a total of 19 Palestinian civilians. With Monday evening's airstrikes, a total of 97 Palestinians have now been killed in Gaza since Wednesday November 14th. At least 21 of these were small children.

In Rafah Monday night, reporter Mohammed Omer says the airstrikes are ongoing as of midnight.
Two Al-Aqsa TV cameramen killed in Israeli attack on Gaza
[ 20/11/2012 - 08:51 PM ]
GAZA, (PIC)--
Two Al-Aqsa TV cameramen have been killed, on Tuesday, as the Israeli occupation continues to launch deadly airstrikes on the blockaded Gaza Strip where an Israeli Apache warplane fired a rocket at a car belonging to al-Aqsa TV channel.
Eyewitness confirmed that Israeli aircraft fired at least one missile at a civilian car carrying press badge belonging to the Palestinian al-Aqsa TV channel, driving in al-Nasser Street west of Gaza City.
The Health Ministry confirmed that two Al-Aqsa TV cameramen were killed during this Israeli raid, Mahmoud al-Komi and Houcem Salama.
By the martyrdom of al-Komi and Salama, the number of the martyrs who were killed during the Israeli aggression on the Gaza Strip, which began on Wednesday, has risen to 130 martyrs and about a thousand wounded.
For its part, the Islamic Resistance Movement "Hamas" and its media bureau mourned the two journalists Ahmed al-Komi and Houcem Salama who were exposing the Israeli massacres against children, women and elderly.
The movement mourned the two martyrs in a statement, saying "we affirm that all the enemy's attempts to blur the truth and to hide its crime will never succeed in stopping the resistance movement", stressing on the Palestinian's right to fight the occupation until defeating it.
Resheq: Israel has yet to respond to Egypt's truce efforts
[ 21/11/2012 - 10:43 AM ]
CAIRO, (PIC)--
Member of Hamas's political bureau Ezzat Al-Resheq said that Egypt still cannot broker a truce deal ending the military aggression against the Gaza Strip because the Israeli government has not responded to the proposals.
Resheq told journalists on Tuesday evening that there would be no calm before Wednesday at the earliest.
"We are still waiting for an Israeli reply, and the announcement will be today, Wednesday, God willing," the Hamas official said. He asked the mass media not to hasten to report about a truce agreement before the Egyptian presidency makes a statement about that.
In a related incident, the Israeli occupation forces continued its shelling on Gaza for the eighth day.
The Palestinian information center (PIC) reporter in Gaza said Israeli warplanes fired at dawn Wednesday seven missiles at Abu Khadra governmental complex in Gaza city destroying it completely and causing damage in nearby buildings
He noted that the office of Al-Jazeera satellite channel suffered considerable damage as well in the aerial attack.
Israeli air raids were also waged on the police headquarters in Khan Younis south of Gaza, which led to the injury of five Palestinian civilians and policemen and caused massive destruction in the area. Dozens of other aerial attacks targeted more 25 populated areas in Gaza at dawn Wednesday.
As Israel's aggression against Gaza enters its eighth day, the number of Palestinian deaths has amounted to 137 victims, including 34 children, and the wounded to 1, 100 others, including 310 children.
IOF troops block ambulance cars from evacuating wounded Palestinians
[ 21/11/2012 - 12:08 PM ]
GAZA, (PIC)--
Israeli troops refused to allow ambulance cars to evacuate a number of wounded Palestinians in Juhr Al-Deek area to the southeast of Gaza city, Quds Press reported.
The agency quoted a field monitoring source as saying that Israeli warplanes fired a number of missiles at the area inflicting casualties.
Locals said that members of Shahin family were the targeted casualties for evacuation, adding that Israeli troops threatened to fire at the ambulance cars if they ventured into the area.
An Arab League delegation including al-Arabi and Davutoglu visits Gaza
[ 20/11/2012 - 09:33 PM ]
GAZA,(PIC)--
Diplomatic delegation from the Arab League, accompanied by Dr. Ahmet Davutoglu, Turkish Foreign Minister, visited Gaza on Tuesday in a show of support for Gaza.
The delegation is headed by Dr. Nabil al-Araby, Secretary General of the Arab League, and thirteen Foreign Arab Ministers, to check on the Palestinian injured during the Israeli aggression and to condole some families targeted by Israeli warplanes, such as Dalou and Abu Zor families.
The delegation which arrived in Gaza through the Rafah crossing was received by Palestinian officials.
They visited the Shifa hospital and saw for themselves the casualties in the hospital and the visited the families of some of the victims.
They also held a press conference in which they expressed support for the Palestinians of Gaza and promised they will tirelessly work for a halt of the Israeli occupation aggression on the besieged coastal strip.
Meanwile, the Ministry of Foreign Affairs confirmed that a diplomatic delegation from Libya will visit the Gaza Strip on Wednesday morning.
The Libyan delegation is expected to include members of the Libyan government and members of the Libyan General Conference and a group of medical specialists and other political figures.
The delegation will carry urgent medical aid supplies in order to meet the needs of the Palestinian hospitals and filling the medicine shortages in the strip.
The official visit came in light the ministry's efforts in order to break the siege imposed on the Palestinian people in the Gaza Strip. The Ministry has been also dealing with Arab and international parties to stop the Israeli aggression on the Gaza Strip.
At least 21 wounded in a Tel Aviv bus explosion
[ 21/11/2012 - 01:01 PM ]
WEST BANK, (PIC)--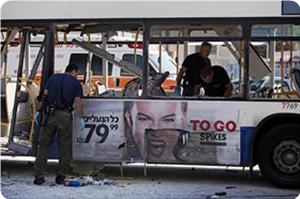 An explosion took place on a bus travelling on King David Road in the Tel Aviv wounding at least 21 passengers according to news reports. This was followed by another explosion in the city the results of which is not known yet.
Media reports, on the blast, put the number of casualties from an initial ten casualties to 25 now wounded with some reports speaking about two or three dead.
Israeli TV reports said that two were killed and five among the wounded were in critical condition.
Israeli police said that a man put an explosive device in the bus then left it, adding that another device did not explode in the same bus.
No one has claimed responsibility for any of the two explosions.
This site contains copyrighted material the use of which has not always been specifically authorized by the copyright owner. We are making such material available in our efforts to advance understanding of environmental, political, human rights, economic, democracy, scientific, and social justice issues, etc. We believe this constitutes a 'fair use' of any such copyrighted material as provided for in section 107 of the US Copyright Law. In accordance with Title 17 U.S.C. Section 107, the material on this site is distributed without profit to those who have expressed a prior interest in receiving the included information for research and educational purposes. For more information go to: http://www.law.cornell.edu/uscode/17/107.shtml. If you wish to use copyrighted material from this site for purposes of your own that go beyond 'fair use', you must obtain permission from the copyright owner.