Another American General, John Allen, Involved in a Romantic Relationship with a Married Woman, Jill Kelly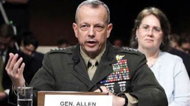 General John Allen and his wife
| | | |
| --- | --- | --- |
| | | |
| | Jill Kelly, the women involved with General John Allen | |
Investigation of 'warrior monk' General Allen surprises acquaintances
By David Alexander, Tuesday, November 13, 2012
WASHINGTON (Reuters) -
Marine Corps General John Allen, the soberly formal, spit-and-polish head of U.S. and international forces in Afghanistan, is not a military leader whose image immediately conjures up the word "flirtatious."
The four-star general, who succeeded General David Petraeus last year as head of the International Security Assistance Force, is known for his ability to work with tribal sheikhs, a skill that helped him turn the tide against al Qaeda in Anbar Province in Iraq five years ago and has served him well in Afghanistan.
So the news that Allen, a 36-year veteran of the Marine Corps, had been snared in the same investigation that prompted the resignation of Petraeus as CIA director last week was greeted with surprise at the Pentagon and elsewhere in Washington.
John Ullyot, who served under Allen at Camp Lejeune in North Carolina in 1993, said he was all about "setting the example" for those under him and it was "hard for anyone who ever served under Allen" to believe he had been pulled into the probe.
Allen, who is married and has two daughters, "was known as a kind of warrior monk," said Ullyot, who was a spokesman for former U.S. Senator John Warner, a Republican who chaired the Senate Armed Services Committee.
Allen's connection to the probe that snared Petraeus was revealed early on Tuesday when Defense Secretary Leon Panetta announced he was putting Allen's nomination as head of U.S. European Command on hold pending an investigation.
A senior U.S. defense official said Panetta had asked the Defense Department's inspector general to investigate what the Pentagon called "inappropriate communication" between Allen and Jill Kelley, a Tampa, Florida socialite who is involved in volunteer causes that support the military.
Kelley is the woman who told the FBI she had received anonymous harassing emails about Petraeus. The FBI investigation into the emails uncovered an extramarital affair between Petraeus and his biographer, Paula Broadwell, who was found to be the source of the emails to Kelley, officials have said.
The FBI investigation also uncovered 20,000 to 30,000 pages of emails between or copied to Allen and Kelley. While defense officials were unable to say exactly how many emails there were between the two, the volume in pages raised concerns, they said.
A senior defense official, speaking on condition of anonymity, said the emails were "flirtatious" in nature, but did not deal with security or military business. The official said he had not seen the emails and could not say whether they were merely friendly or sexually explicit.
The investigation came just two days before Allen, the first Marine to serve as Commandant of Midshipmen at the U.S. Naval Academy, was to testify at a confirmation hearing naming him to replace Admiral James Stavridis as head of the U.S. European Command and Supreme Allied Commander Europe.
RECOMMENDED BY PETRAEUS
Allen and Petraeus have long known one another and served together. Allen was Petraeus' deputy at U.S. Central Command, based in Tampa.
Petraeus personally recommended Allen for the ISAF command. During Allen's confirmation hearing for the job, Senator John McCain told Allen he could "think of no higher compliment to pay a military officer" than to have the kind of support Petraeus had given him.
Allen has served as the head of ISAF since July 2011, managing the drawdown of U.S. forces following a surge that helped push Taliban insurgents out of major cities across the country.
His time in Afghanistan also has been marked by a spate of incidents that have enraged Afghans. They include video images of troops urinating on Taliban corpses and the burning of Korans and religious texts taken from a prison library. There also has been a surge in attacks on international forces by their Afghan partners.
Allen has handled the incidents with sensitivity, even as tensions have increased, his supporters say.
"I think General Allen has done a good job under very difficult circumstances in Afghanistan," said Senator Susan Collins, a member of the Armed Services Committee.
McCain, the top Republican on the Armed Services Committee, said he was surprised by the probe of Allen's emails and urged people to withhold judgment until the inspector general had finished his investigation.
"I have great respect and appreciation for the work that General Allen has done," he said. "If we fail in Afghanistan, which we are, it's because of decisions that were made by the president, not by General Allen."
"General Allen has said that he is not guilty of any improper behavior," McCain added. "He deserves to have us withhold judgment until the investigation is completed."
Allen, a 1976 Naval Academy graduate, served from 2008 to 2011 as deputy commander of U.S. Central Command, which oversees U.S. military dealings with countries from Egypt to Kazakhstan, including Afghanistan and Pakistan.
He was a deputy commanding general of the 2nd Marine Expeditionary Force in Iraq from 2006 to 2008.
(Additional reporting by Susan Cornwell. Editing by Warren Strobel and Christopher Wilson)
Gen. John Allen tied to Jill Kelley, Petraeus affair scandal
Los Angeles Times, November , 2012
WASHINGTON —
An FBI investigation that led to the resignation of CIA Director David Petraeus also turned up evidence that Gen. John Allen, the top U.S. commander in Afghanistan, was exchanging potentially inappropriate emails with a Florida woman involved in the scandal, Pentagon officials said.
Defense Secretary Leon Panetta said in a statement early Tuesday morning that he had ordered an investigation of Allen after the FBI informed the Pentagon it had uncovered thousands of pages of emails between Allen and Jill Kelley, a 37-year-old who has been described as an unpaid social liaison at MacDill Air Force Base, Fla., which is headquarters to the U.S. Central Command.
Kelley's complaints to the FBI that she had received anonymous e-mails warning her to stay away from Petraeus led the FBI to open an investigation that ultimately traced the e-mails to Paula Broadwell, Petraeus's biographer, who was involved in an affair with Petraeus.
The latest twist in the scandal investigation, coming only days after Petraeus, a retired general, resigned as CIA director after admitting he had had an extramarital affair, has thrown President Obama's national security team into turmoil and focused attention on the private lives of the nation's most senior military commanders.
One official said that Allen, who is married, had denied having an inappropriate relationship with Kelley, who is married to a Tampa doctor and known among officers at Central Command for hosting social events and for forging social ties with top commanders in Tampa. Allen was deputy head of Central Command before taking command in Afghanistan last year.
Officials refused to describe the nature of the emails between Kelley and Allen, who replaced Petraeus as the top commander in Afghanistan and was nominated in October by President Obama to be Supreme Allied Commander in Europe. Panetta asked the Senate to place Allen's nomination on hold until after the investigation is complete.
A spokesman for Allen, who has been in Washington preparing for his confirmation hearings, had no comment on the investigation. Efforts to reach Kelley also were unsuccessful.
Kelley received an award last year for her support to Central Command and was named an honorary ambassador for the command, an unpaid position with no official duties. But she has angered some senior officers for what were described as persistent efforts by her to forge close personal ties to successive Central Command four-star officers by deluging them with emails, a former Central Command aide said. After being named honorary ambassador, she asked the command for staff at the headquarters to help her organize social functions, a former U.S. official said.
Panetta said that Allen would remain in command in Afghanistan while the investigation into the emails by the Defense Department inspector general is conducted.
The FBI's decision to refer the matter to the Pentagon, along with Panetta's decision to allow Allen to continue as commander of U.S. and international forces in Afghanistan, suggested that officials viewed the matter as a possible infraction of military rules rather than a violation of federal criminal law.
"His leadership has been instrumental in achieving the significant progress that ISAF, working alongside our Afghan partners, has made in bringing greater security to the Afghan people, Panetta said. "He is entitled to due process in this matter."
ISAF is an abbreviation for the International Security Assistance Force in Afghanistan.
At the same time, Panetta urged the Senate to move ahead on confirmation hearings for Gen. Joseph Dunford, the Marine who has been selected by Obama to succeed Allen in Kabul.
The last three U.S. commanders in Afghanistan - Petraeus, Allen, and Gen. Stanley McChrystal - have all now come under scrutiny for their personal behavior, although Petraeus's affair apparently began after he stepped down in Afghanistan. McChrystal was fired by Obama after a magazine article that appeared to show him and his staff criticizing and making crude jokes about Obama's top civilian advisors.
***
More Political Sex Scandals:
http://www.latimes.com/news/nationworld/nation/la-na-060811political-sex-scandals,0,6617112.photogallery
This site contains copyrighted material the use of which has not always been specifically authorized by the copyright owner. We are making such material available in our efforts to advance understanding of environmental, political, human rights, economic, democracy, scientific, and social justice issues, etc. We believe this constitutes a 'fair use' of any such copyrighted material as provided for in section 107 of the US Copyright Law. In accordance with Title 17 U.S.C. Section 107, the material on this site is distributed without profit to those who have expressed a prior interest in receiving the included information for research and educational purposes. For more information go to: http://www.law.cornell.edu/uscode/17/107.shtml. If you wish to use copyrighted material from this site for purposes of your own that go beyond 'fair use', you must obtain permission from the copyright owner.