How Paula Broadwell Destroyed the Highest Ranking American General, David Petraeus


General Petraeus and his mistress, Paula Broadwell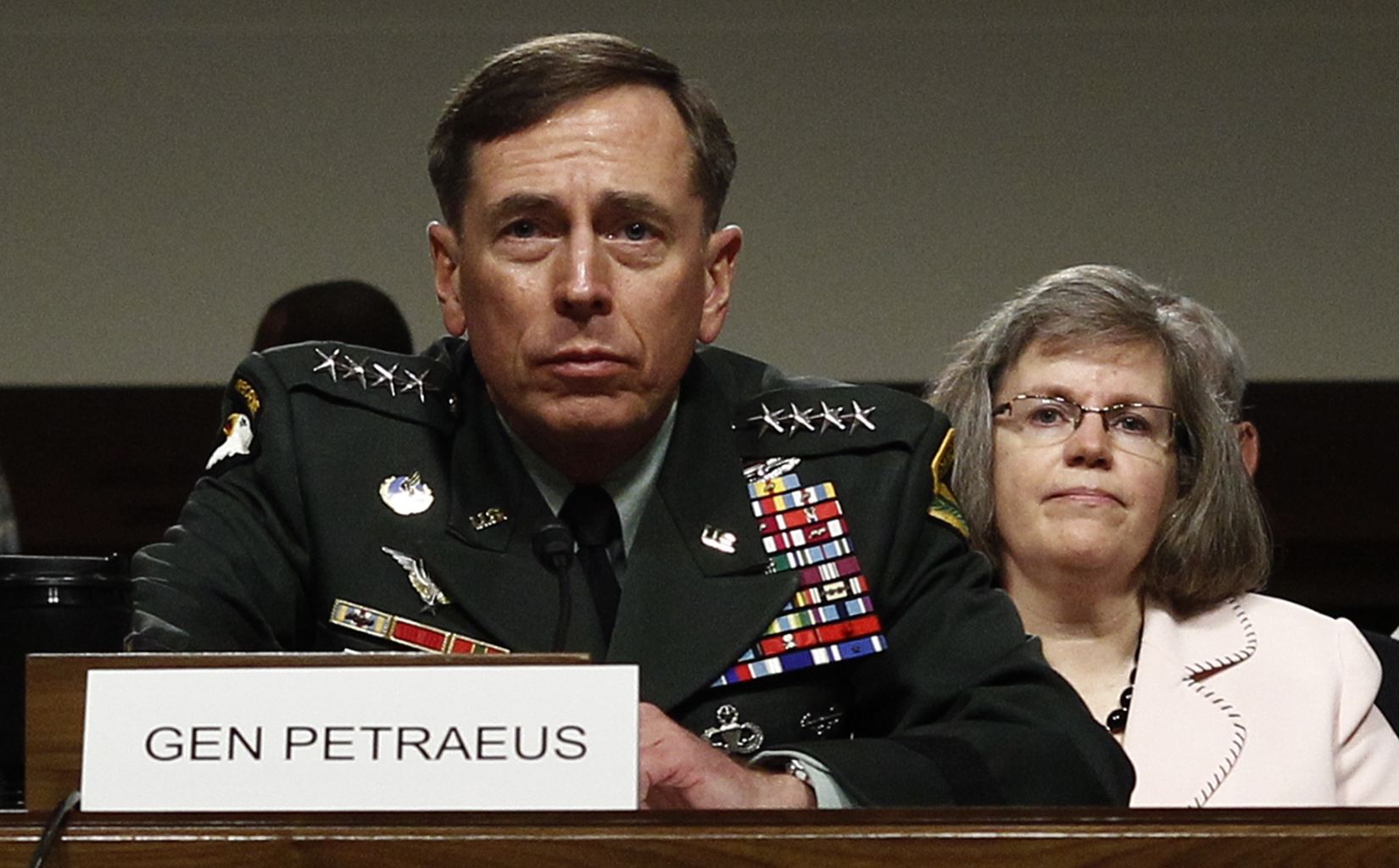 General Petraeus and his wife, Holly
Three women intertwine in downfall of David Petraeus
By Rick Rothacker
Monday, November 12, 2012, 11:30pm EST
(Reuters) -
Jill Kelley is a fixture on the Tampa, Florida, military scene, volunteering for community relations work with foreign military officers and their families stationed at MacDill Air Force base.
She is also a friend of David Petraeus, and yet, she appears to have contributed to his stunning downfall and departure as director of the CIA.
It was Kelley's complaints about harassing emails from the woman with whom Petraeus had an extramarital affair, Paula Broadwell, that prompted an FBI investigation that later exposed the liaison and led to his resignation last week.
People close to Petraeus have said Kelley is a family friend and that there was no romantic relationship. It's unclear why Broadwell would have sent threatening emails to her, but she may have seen her as a rival for Petraeus' affections, the same people said, speaking on condition of anonymity.
The scandal has tarnished the reputation of a revered general and raised questions about how the FBI handled the situation and when the White House learned of the affair, which became public after the November 6 presidential election.
It has also brought uncomfortable attention to three women in Petraeus' life: Kelley, Broadwell and his wife of more than 37 years, Holly, an official with the Consumer Financial Protection Bureau.
Kelley and her husband, Scott Kelley, a Tampa cancer surgeon, became friends with Petraeus when he was stationed at MacDill Air Force Base in Tampa from 2008 until 2010, people familiar with the situation said.
At the time, Petraeus was commander of the U.S. military's Central Command, which runs operations in the Middle East and South Asia. The two families socialized in Tampa and in Washington, the people said.
Unlike Broadwell, who has been silent and out of public view since the story broke on Friday, Kelley has put out a statement on her family's friendship with the Petraeuses and asked that her family's privacy be respected.
A source close to the family said that Kelley is now being advised on how to respond to the Petraeus uproar by one of Washington's most prominent trial lawyers, Abbe Lowell, a family friend who has represented high-profile criminal defendants like former U.S. Senator John Edwards and disgraced Republican lobbyist Jack Abramoff. Lowell did not respond to requests for comment.
Kelley has also enlisted the help of Judy Smith, a well-known crisis PR manager who is the model for the ultra-effective fixer and spin doctor Olivia Pope in the ABC Thursday night TV drama "Scandal."
Kelley could not be reached for comment. She was spotted driving away from her Tampa home on Monday in a car with "Honorary Consul" on the license plate. She is considered an unofficial ambassador at the MacDill base, promoting community relations with foreign liaison officers, said a source familiar with the situation.
Kelley is the daughter of Marcelle and John Khawam, now of Washington Crossing, Pennsylvania, but with roots in the Northeast section of Philadelphia, said her brother, David Khawam, a lawyer who practices in Westmont, New Jersey. The Lebanese-born parents owned three restaurants, all called Sahara, when their children were growing up.
Kelley's vocation has been to be an "honorary ambassador" to the military, her brother said. "She has always wanted to take a certain role, in giving back to the community," he said.
He said it's not surprising she would go to the FBI after receiving threatening emails from an unknown source, considering her connections to the military and the fact that she has a wealthy husband and young children.
"I believe my sister probably reported this because of fear that somebody may be serious in any kind of threats they may be making towards her," he said.
FBI AGENT REPORTEDLY BARRED FROM CASE
The Wall Street Journal reported that the FBI agent who started the investigation was a friend of Kelley's. He was later barred from taking part in the case over concerns that he had become personally involved. Officials found that he had sent shirtless pictures to Kelley, the Journal reported.
The agent's identity has not been disclosed.
Kelley, 37, also has an identical twin sister, Natalie Khawam, with whom she appears with Holly and David Petraeus and her husband in a 2010 photo published in newspapers on Monday.
Court records show Kelley played a role in a bitter child custody trial that preceded the divorce case between Khawam, and Khawam's then-husband, Grayson Wolfe of Washington, who once worked for the Coalition Provisional Authority in Iraq.
In a scathing decision in November, 2011 against Khawam that granted sole primary and legal custody of their then 3-year-old son to Wolfe, District of Columbia Superior Court Judge Neal Kravitz refused to believe Kelley's claims that Wolfe had tried to push her sister down a flight of steps in Kelley's Tampa home.
"The court does not credit this testimony," Kravitz wrote, calling Kelley "a patently biased and unbelievable witness."
Neither Wolfe nor Khawam could be reached for comment.
Broadwell, 40, who sources said sent the threatening emails to Kelley, is an Army reserve officer and doctoral student who lives in Charlotte, North Carolina, with her husband and two young children.
FBI agents searched Broadwell's home on Monday, entering the house carrying boxes and remaining there for almost two hours. There was no sign that Broadwell or members of her family were at the house during the FBI search.
Broadwell met Petraeus in 2006 when she was student at Harvard. The general gave her his card and offered to help with her studies.
In 2010 when Petraeus was named commander in Afghanistan, she decided to turn a dissertation about his leadership into a book, called "All In," which was published in January. Interviews for the book often took place during runs together, Broadwell said later.
'ALPHA WOMAN'
A person who knows Broadwell and Petraeus said she stood out in Afghanistan as an "alpha woman" who was attractive, fit, smart and driven. It was not unusual for Petraeus to mentor younger soldiers and take an interest in scholarly work, said this person.
Broadwell has not responded to requests for comment.
It is not clear how much Holly Petraeus and Broadwell have interacted. In the book's acknowledgements, Broadwell gives "special thanks" to Holly, but no interviews are listed with her in the notes.
The book describes how Petraeus and Hollister "Holly" Knowlton, a student at Dickinson College, first met on a blind date in 1973 at a college football game at West Point, where Petraeus was a cadet. Holly's father, General William Knowlton, was the superintendent at West Point, and Petraeus found the "stature of Holly's family intoxicating," the book says.
Holly has been a dedicated military spouse who endured her husband's extended absences over the past decade, said Peter Mansoor, who was Petraeus' executive officer in Iraq from 2007 to 2008.
"They've been apart more time than they have been together, with him being overseas on five different deployments," Mansoor said. "She was a stalwart Army trooper through it all."
At the Senate hearing on confirmation of his appointment at the CIA in June 2011, some senators, including John McCain and Joe Lieberman, paid tribute to Holly, as did Petraeus.
"Holly was recently described as being bright, nice, small and a pit bull, someone you want in your corner," Petraeus said. "I've been blessed to have had her in my corner for some 37 years and 23 moves, and I appreciate the opportunity this afternoon to recognize her publicly."
Since January 2011, Holly Petraeus has led an office that advocates for military families at the Consumer Financial Protection Bureau.
Jean Ann Fox of the Consumer Federation of America, said Holly Petraeus has traveled all over the country to talk to service members and has a reputation for spending time with families and talking about her own experiences and observations as a military spouse.
"She has shined a light on a lot of problems that impact the military, and hopefully as time goes on, enforcement actions will help take care of some of that," Fox said.
A Consumer Financial Protection Bureau spokeswoman said Holly Petraeus remains a key leader at the agency and would have no further comment. She posted a Veteran's Day message on the bureau's website on Friday, the same day her husband's resignation became public.
Mansoor, trying to explain David Petraeus' behavior, said he believes he might have struggled with the social transition from his life in a military "cocoon" to his work at the CIA.
"I think that General Petraeus found himself a little bit isolated socially at the CIA and his manner of reaching out was through the person who made herself the most available to him and that was Paula Broadwell," Mansoor said.
Holly Petraeus is furious with her husband, said Mansoor. "He's going to do what he can to repair his relationship," he said.
(Additional reporting by David Adams, Emily Stephenson, Mark Hosenball, David Ingram, Saundra Amrhein and Dave Warner.; Editing by Mary Milliken and Christopher Wilson)
Petraeus mistress had substantial classified data on computer: sources
By Mark Hosenball
Wed Nov 14, 2012 8:53pm EST
WASHINGTON (Reuters) -
A computer used by Paula Broadwell, the woman whose affair with CIA Director David Petraeus led to his resignation, contained substantial classified information that should have been stored under more secure conditions, law enforcement and national security officials said on Wednesday.
The contents and amount of the classified material - and questions about how Broadwell got it - are significant enough to warrant a continuing investigation, the officials said. They spoke on condition of anonymity because they are not authorized to comment publicly.
The details about material held by Broadwell, a reserve officer in military intelligence, emerged Wednesday as the Pentagon suspended her security clearance. There are growing concerns among military and law enforcement officials about the potential fallout from the affair between Petraeus and Broadwell, who co-authored a biography of the retired general.
Late Wednesday, the House intelligence committee announced that Petraeus would testify on Friday behind closed doors about the attack on the U.S. Consulate in Benghazi, Libya. Leaders of the House and Senate intelligence committees were briefed Wednesday on the Petraeus matter by leaders of the FBI and CIA.
During a news conference at the White House on Wednesday, President Barack Obama said there was no indication so far that any classified information had been disclosed as a result of the affair.
Obama also said that for now, he would refrain from judging whether he should have been told earlier than last Wednesday about the probe involving his CIA chief, who resigned on Friday before the affair became public.
"I am withholding judgment with respect to how the entire process surrounding General Petraeus came up. We don't have all the information yet," Obama told a White House news conference.
The president noted that had he known earlier, he might have been open to accusations of interference in a politically sensitive law enforcement matter.
Broadwell's security clearances gave her access to certain classified material, several officials said. Government rules require such material to be stored in secure locations or computers.
Two officials familiar with the case said investigators are asking whether Broadwell followed government rules for handling classified information.
FBI investigators searched Broadwell's residence in Charlotte, North Carolina, late Monday, an action that officials said occurred with Broadwell's consent.
Attempts to reach Broadwell, who has remained mainly out of the public eye, have been unsuccessful. She was seen late Tuesday at her brother's home in Washington, D.C.
During the FBI investigation that led to the discovery of the affair between Petraeus and Broadwell, both individuals denied that Petraeus had supplied her with any classified information and the FBI accepted those explanations, law enforcement sources have said.
CRIMINAL CHARGES UNLIKELY
Law enforcement officials also have said that they believe the continuing FBI probe into the matter is likely to end without criminal charges. If Broadwell is found to have mishandled classified information, she could face action under administrative security regulations.
Still, the latest developments could quash hopes among some at the Justice Department and in Congress for a quick end to a scandal that this week also ensnared the commander of U.S. and NATO forces in Afghanistan, Marine General John Allen.
In a statement late Wednesday issued by the Marine Corps' chief defense counsel, Allen pledged to resolve the questions surrounding his email communications with Tampa socialite Jill Kelley, who is also at the center of the Petraeus case.
The retired four-star Army general has made no public statement since he announced his resignation as CIA chief on Friday.
Petraeus has agreed, however, to testify before Congress about the attack on the U.S. Consulate in Libya, that killed four Americans, amid questions over the CIA's actions before, during and after the assault on September 11, 2012.
C.A. "Dutch" Ruppersberger, ranking Democratic member of the House intelligence committee, said Congress still wanted to hear from Petraeus on the Benghazi attack.
"When a situation like this occurs with General Petraeus, we have to make sure that the CIA is moving forward on their mission and that in no way will this affect their ability to do their work," Ruppersberger said.
There is no protocol in federal law that would have required senior officials - like FBI Director Robert Mueller or Attorney General Eric Holder - to inform the president about the Petraeus investigation sooner, a former Justice Department official said.
The most recent written guidance was issued in 2007 by Michael Mukasey, then the attorney general. The Justice Department should advise the White House about a criminal matter "only where it is important for the performance of the president's duties and where appropriate from a law enforcement perspective," the memo reads. It leaves interpretation of those terms to the attorney general and the deputy attorney general.
"It's the quintessential judgment call for an attorney general to decide whether to share this information and when to share it with the White House," the former official said. "But this was Attorney General Holder's call to make."
FBI AGENT EMERGES
This week, U.S. Defense Secretary Leon Panetta asked the Pentagon's inspector general to examine potentially inappropriate communications between Allen and Kelley, and recommended that Obama halt Allen's nomination to command US and NATO forces in Europe, which he did.
Defense officials have said Allen did not have a romantic relationship with Kelley, a 37-year-old wife and mother who is described as a prominent presence in military circles in Tampa.
She may have been seen as a rival by Broadwell, who sent Kelley a series of anonymous, harassing e-mails that touched off an investigation that uncovered evidence of an affair between Petraeus and Broadwell, according to a law enforcement source.
Kelley sought help from an FBI agent she knew in Tampa, identified by the New York Times late Wednesday as Frederick Humphries.
He set in motion the investigation that eventually led agents to uncover the Petraeus-Broadwell affair, as well as extensive email communications between Kelley and General Allen, a former deputy to Petraeus at U.S. Central Command, which is based at MacDill and oversees the wars in Afghanistan and Iraq.
Allen and Kelley communicated often enough over the past two years to produce between 20,000 and 30,000 pages of email and other messages, which were turned over to Defense Department investigators on Sunday.
"To the extent there are questions about certain communications by General Allen, he shares in the desire to resolve those questions as completely and quickly as possible," the Marines' chief defense counsel, Colonel John G. Baker, said in a statement.
Allen remains in his post as commander in Afghanistan.
A senior defense official told Reuters the messages with Kelley were seen as inappropriate because they were "flirtatious" in nature, not because they dealt with sensitive information.
But another U.S. official said the Pentagon only decided to refer the matter for investigation after an initial look found the communications to be of "a sufficient character" to warrant further review.
(Additional reporting by Phil Stewart in Australia, Patrick Rucker, David Alexander, Rick Rothacker, David Ingram, Tabassum Zakaria, Susan Cornwell, Matt Spetalnick, Margaret Chadbourn and Dan Burns. Writing by Warren Strobel. Editing by David Lindsey, Dan Burns and Cynthia Osterman)
This site contains copyrighted material the use of which has not always been specifically authorized by the copyright owner. We are making such material available in our efforts to advance understanding of environmental, political, human rights, economic, democracy, scientific, and social justice issues, etc. We believe this constitutes a 'fair use' of any such copyrighted material as provided for in section 107 of the US Copyright Law. In accordance with Title 17 U.S.C. Section 107, the material on this site is distributed without profit to those who have expressed a prior interest in receiving the included information for research and educational purposes. For more information go to: http://www.law.cornell.edu/uscode/17/107.shtml. If you wish to use copyrighted material from this site for purposes of your own that go beyond 'fair use', you must obtain permission from the copyright owner.