The World Protest Zionist Israeli Savagery in Gaza, January 11, 2009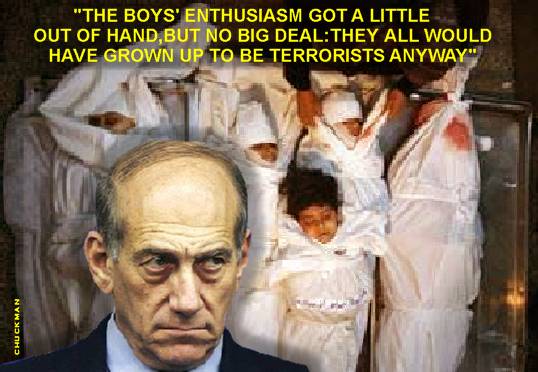 By John Chuckman
Current Issues TV interviewd Sameh Habeeb live from Gaza
http://www.youtube.com/watch?v=kZ7BMb20i5E Hesham Tillawi interviews Sameh Habeeb live from Gaza on Current Issues TV ( 10 Minutes)
http://video.google.com/videoplay?docid=-5472585938932394581 Full Hour with Sameh Habeeb from Gaza
=================================
US House of Representatives Votes on Unbalanced Resolution Blaming Palestinian Victims, Justifying Israeli War Crimes
The US Senate unanimously passed an extremely unbalanced resolution on the War in Gaza. The resolution can be seen here: http://aipac.org/Publications/SourceMaterialsCongressionalAction/SenateRes.pdf

CALL YOUR HOUSE REPRESENTATIVES NOW and let them know you oppose any legislation which places blame on only one side, fails to recognize the plight of the Palestinian civilians suffering under Israel siege for years before the war, and does not hold Israel accountable for any violations of International and American Law and the Laws of War.

Instructions on how to contact your Representatives are below.

You can find contact information for your representatives by clicking here. You can also find talking ADC's talking points on the issue here.

Continue to visit ADC's GAZA CRISIS RESOURCE CENTER for ways to take action, donate, and keep up to date about recent developments in the Gaza Strip.

How to contact your Senators in 7 steps.

1. Go to http://capwiz.com/adc/dbq/officials/ , if you have trouble locating contact information call ADC at 202-244-2990.

2. In the middle of the page there is a space to enter your zip code­, enter it and press GO

3. You will get information about President; your two senators; and your District Representative. Decide if you will call one or all three of them - (We suggest to call/write all of them)

4. Click on the name of the person you want to call. This will take you to the Congressperson's home page. Once there click on the tab above their picture that reads "Contact". You will get contact information for their District office as well as their DC-based office. Call the DC- number since Congress is back in session this week.

5. Call the number, a legislative correspondent (LC) will pick up the phone: Immediately say you are from the Congressperson's district and mention your zip code

6. Ask to speak to the FOREIGN POLICY LEGISLATIVE ASSISTANT. The LC will most likely respond that he or she is not available and you can leave a message, at that point make sure to speak your piece concisely and clearly in 1-2 minutes maximum (they don't have time and you want them to write down what you say and free up the line for others to call)

Suggested Script & Talking Points:

I am a constituent in the Congressperson's district and I want to express my indignation at the massacre of civilians in Gaza. This is not a war against terror, it's a war against civilians as Israel has killed over 760 Dead including 219 Children and 89 Women, and Over 3,085 Injured, including 46% Women andChildren, and continues to target schools, homes, and places of worship. We provide Israel with 3.2 billion tax dollars every year and I don't want my money used like that. I want my Congressperson to: A. Call for an immediate cease fire B. Coordinate a humanitarian shipment to Gaza; and C. Hold Israel accountable for misuse of U.S. supplied weapons pursuant to US law like the Arms Export Control Act andthe 1952 US Israel Treaty regarding arms sales.


=================================


Urgent Action: Contact Congress Right Now on Pro-Israel Resolutions

CAIR today called on all Americans concerned about peace with justice in the Middle East to urge congressional leaders to ensure that resolutions on the current crisis in Gaza are balanced and help promote a just and durable peace for all parties to the conflict.

A resolution passed in the U.S. Senate today failed the test of balance and peace-building. The House is expected to take up a similarly unbalanced pro-Israel resolution tomorrow.

SEE: U.S. Senate Supports Israel's Gaza Incursion (Reuters)
SEE ALSO: Dems Plan Pro-Israel Resolution

President-elect Barack Obama recently said that he is "committed" to being "engaged effectively and consistently in trying to resolve the conflict in the Middle East."

CAIR believes Congress should support the incoming administration by mirroring President-elect Obama's statement, "the loss of civilian life in Gaza and in Israel is a source of deep concern for me."

"Our elected representatives should focus on American interests first, not on offering uncritical support to a foreign power engaged in the illegal and immoral use of military force and collective punishment of a civilian population," said CAIR Executive Director Nihad Awad. "The widespread perception that American officials support Israeli brutality compromises our nation's ability to act as a mediator and peace-builder. Peace in this region is a national security issue."

URGENT ACTION REQUESTED:

1. Call your U.S. Representative and urge her or him to ensure that any resolutions or statements coming from Congress are balanced and promote peace with justice. This will ensure that the international community does not perceive that the U.S. government is divided on the goal of bringing a just and durable peace. (Find suggested talking points below.)

Call the U.S. Capitol Switchboard at 202-224-3121 and ask for your representative's office.

2. Call the House Speaker and Chairman of the House Committee on Foreign Affairs and urge them to ensure that any resolutions or statements coming from Congress are balanced and promote peace with justice. This will ensure that the international community does not perceive that the U.S. government is divided on the goal of bringing a just and durable peace. (Find suggested talking points below.)

(If you are not a constituent be sure to mention that you are calling them in their leadership roles. If you reach an answering machine, feel free to leave a message.)

Rep. Nancy Pelosi (D-CA), Speaker of the House
Phone: (202) 225-0100
Webform: http://speaker.house.gov/contact/

Rep. Howard Berman (D-CA)
Phone: 202-225-4695
Webform: http://www.house.gov/berman/contact/
Berman is chairman of the House Committee on Foreign Affairs. Call the committee at: 202-225-5021
I urge you to ensure that any congressional resolutions or statements relating to the Middle East conflict are balanced and promote peace with justice in the region.
Balanced statements will ensure that the international community does not perceive that the U.S. government is divided on the goal of bringing a just and durable peace.
As you may know, Israeli attacks on Palestinian civilians block efforts to bring peace with justice to the Middle East, harm our nation's image and interests worldwide and strengthen voices of extremism in the region.
The Palestinian people must be given some hope of freedom from Israeli occupation and domination and Israel's immoral and illegal collective punishment of the Palestinian people living in the Gaza Strip must end.
I also believe American taxpayer dollars should not be used to for weapons that kill civilians.
3. Sign CAIR's Online Petition urging our nation's leaders to speak "in favor of peace and justice for all parties in the current humanitarian crisis unfolding in the Gaza Strip." When completed, the petition will be sent to elected officials nationwide and will be given to members of the current and incoming administrations. Go to: http://petition.cair.com/
4. Pray for all those who are suffering and oppressed.


================================


Israel Outraged as Vatican Calls Gaza a 'Big Concentration Camp'

Echoing Pope Benedict XVI's repeated calls to end the ongoing bloodshed in the Gaza Strip, Vatican Justice and Peace Minister Cardinal Renato Martino urged both the Israeli government and Hamas to show more willingness toward peace talks and for the world to help them come an agreement that would end the ongoing Israeli invasion.

He also expressed concerns about the dire humanitarian situation in the Gaza Strip, saying "let's look at the conditions in Gaza: these increasingly resemble a big concentration camp."

Compiled by Jason Ditz

=================================
Muslim Action Alert


The time has come to create an international, global non-violent resistance movement against the violent, extremist policies of the State of Israel. We must mobilize world opinion by keeping the Palestinian issue in the public eye through ongoing, scrupulously accurate information ; by writing articles, organizing conferences and demonstrations in support of the Palestinians, and by improving synergy between the efforts and activities of existing organizations. Read Article by Tariq Ramadan


Step ONE - Sincere & Continuous Dua

"And your Lord says: "Call on Me; I will answer your (Prayer)!"
(Al-Quran 40:60)

Repeat these and more duas frequently through out the day.

List of duas

"When My servants question thee concerning Me, I am indeed close
(to them): I listen to the prayer of every suppliant when he calls on Me." (Al-Quran 2:186 )


STEP TWO - Understanding Dynamics of US / Israel Relationship

NPR's Talk of the Nation discusses the various aspects of why US backs Israel unconditionally. It also discusses the strong lobby and unconditional aid of $500 per Israeli per year from our Tax $$$

Listen to the coverage
Read the Transcript


Step THREE - Communicate Humanitairan Crisis

750,000 people without water, days and nights without sleep, incessant bombing, traumatized, nowhere safe
Hundreds dead!
Over 5,000 injured
A million people already destitute and food aid dependent on hand outs and food from the U.N., not getting their food at the moment.
The power plant has been closed down since 31st of December.
No electricity for a million people.
The list goes on and on...
U.N. Official In Gaza Discusses Aid Suspension
Listen to the interview
Read the Transcript
Participate in Rallies, Click here for National Listing


STEP FOUR - Donate Generously

Helping Hand Luanches Relief Effort
Get more details at www.HelpingHandOnline.org

Islamic Relief's Fundraiser in NJ
Emergency Fundraiser

Sunday, January 11, 2009
2pm - 5pm

Ramada Inn Hotel
999 Route 1 South,
North Brunswick, NJ 08902
Speakers:
Faraz Khan & Khalid Latif
Ticket:
$25/Person & $15/Student
Lunch will be served!
Babysitting available!
Click for more details


STEP FIVE - Write Letters to Your Newspaper

Letters to editor is the most-read section in the entire newspaper, and is read by local leaders as a means of keeping up with the pulse of the community.
Guidelines to write a letter to editor

Sample Letter:

ISRAEL: Immoral actions

The Middle East is going through the worst humanitarian crisis of history. Israeli attacks block efforts to bring peace with justice to the area, harm our nation's image and interests worldwide and strengthen voices of extremism in the region.

The head of operations for the International Committee of the Red Cross said that the military offensive against Palestinian rocket squads launched by Israel in late December has left up to 600 dead and as many as 3,000 injured in Gaza.

Many Gazans have been left without electricity or running water, thousands have been displaced from their homes and residents say food supplies are running thin.

The strip, home to 1.5 million people, is already suffering shortages of power, food and medical supplies due to a two-year blockade imposed by Israel.

The Palestinian people must be given the hope of freedom from Israeli occupation and domination.

Israel's immoral and illegal collective punishment of the Palestinian people in Gaza must end.

We must support a just and comprehensive resolution to the Israeli-Palestinian conflict that takes into account the rights and responsibilities of all parties.

Biased media reporting is keeping the public in the dark. The taxpayer dollars should not be used for weapons that kill Palestinian innocent civilians.

Your Name
City, State


STEP SIX - Sign CAIR's Petition
CAIR has launched an online petition drive to collect one million signatures. Be part of it by clicking here.


STEP SEVEN - Call Your Elected Representative

Click here to locate your U.S. Representative, and click here to locate your Senators. Ask them to vote for an immediate and unconditional ceasefire in view of the humanitarian crisis already taking place. You can be more detailed than the letter to the editor above.
.

Support!

Online: www.WhyIslam.org/donate
Mailing Address:
1320 Hamilton St.
Somerset, NJ 08873

Hotline:
877-363-ICNA


=================================
KAWAGIB Moro Human Rights, Suara Bangsamoro and LKM held protest rally in Cotabato City Plaza today to support world's call to stop Israeli State in launching war against the Palestinian people.
Cotabato City- The Philippines

The KAWAGIB MORO HUMAN RIGHTS joins the international community in condemning the atrocious military aggression of Israel in Gaza and urges world leaders to support measure to protect and advance the basic rights of the Palestinian people.

The humanitarian crisis in the Gaza Strip calls for an immediate and comprehensive intervention. The entire Gaza populations are being punished for the actions of a few militants. Israel 's military incursion has targeted Hamas but a vast majority of the victims are innocent civilians. The deadly air strikes were aimed at civilian areas. At least one aerial assault hit a U.N. school.

Israel 's sustained and escalating military assault in Gaza has already claimed the lives of close to 700 Palestinians – about a third of whom are women and children – and injured thousands of others.

Despite mounting international pressure, Israel , with the backing of the United States (U.S.), has kept on with its military operation, which is nothing but a large-scale massacre of innocent civilians. The U.S.' used of its veto power to oppose a draft ceasefire resolution by the United Nations (U.N.) Security Council is a clear manifestation of its support to Israel's aggression.

We are very dismayed by the apparent impunity with which Israel with its complicit state, the U.S. , persist in their systematic oppression of the Palestinian people. Israel , with the backing of the U.S. , has been committing immense crimes against humanity despite strong condemnation of international watchdogs.

The Bangsamoro people are, to some extent, beset with similar aggression and feel for the Palestinians in their quest for the right to self-determination. The Philippine government has consistently suppressed the rights and aspirations of the Bangsamoro people and brazenly violated international humanitarian law with its all-out war policy. It has been quick to resort to military option to contain peace and security issues and puts little consideration to the number of civilian lives lost and affected in its military campaigns.

We condemn in the strongest terms Israel 's military aggression in Gaza ; its shameless and flagrant defiance of international humanitarian law and its arrogant and appalling disregard of the unified call of the international community.

We deplore U.S. support in the armed aggression and its imperial pursuits in the Philippines and in the rest of the world.

We support the adoption of concrete measure to end the aggression and the sufferings of the Palestinian people and call an end to Israel 's military and humanitarian siege of Gaza .

FOR REFERENCE:

BAI ALI INDAYLA

(064)421-5680. Contact # 0921.906.4699



=================================


STOP THE WAR COALITION

Email office@stopwar.org.uk
T: 020 7278 6694
Web: http://www.stopwar.org.uk

SPEAKERS, MARCH ROUTE FOR GAZA DEMONSTRATION

1) BE AN INSTANT NEWS MAKER

If you are a marcher at the demonstration on Saturday 10
January who has a mobile phone with internet access, you can
be an instant news maker. Stop the War, CND and the
Palestine Solidarity Campaign are making accessible to
everyone a website they have created for the media to upload
its latest pictures and statements during and after the
demonstration. This means anyone will be able to upload
their pictures, comments etc instantly. The service is free
of charge. The site will go live at noon tomorrow and will
remain available until Monday 12th January. The site can be
found at www.gazaprotest.org

2) MARCH ROUTE

The march route is now confirmed as Speakers Corner at Hyde
Park, Bayswater, Notting Hill Gate, left into Kensington
Church Street, left into
Kensington High Street, past the Israeli Embassy.

3) SPEAKERS AT THE DEMONSTRATION RALLIES

NATIONAL DEMONSTRATION: SATURDAY 10 JANUARY
STOP THE MASSACRE : ISRAEL OUT OF GAZA
ASSEMBLE 12.30PM SPEAKERS CORNER,HYDE PARK
(Nearest tube Marble Arch) Rally & speakers in Hyde park
MARCH TO ISRAELI EMBASSY High St Kensington, London W8

Please note there are two rallies, one at Speakers Corner
before the march starts, the other at the Israeli Embassy
where the march ends. The speakers at each rally are as
follows:

SPEAKERS CORNER RALLY

Lord Ahmed,
Jean Lambert MEP
Richard Howitt MEP
Hugh Lanning, PCS
Christine Brewer, NUT
Reverend & the Makers
Juliet Stevenson
Bianca Jagger
Michael Rosen
Gail Curtmail, UNITE
Brian Eno
Spkrs from Islamic Human Rights Commission
Sally Hunt, UCU
Betty Hunter, PSC
Michael Cushman (Jews for Justice for Palestinians)
Venezuela Ambassador
Keith Sonnet or Alison Shepherd, UNISON
Ismail Patel
Rev Garth Hewitt, Cannon at St George's Cathedral, Jerusalem

SPEAKERS: ISRAELI EMBASSY RALLY

Bruce Kent, CND
Lindsey German, Stop the War Coalition
Ken Livingstone
Jeremy Corbyn MP
George Galloway MP
Sabah Jawad, Iraqi Democrats and STWC
Billy Hayes, CWU
Lauren Booth
Manuel Hassassian, Palestinian General delegate
Azzam Tamimi
Spkr from Muslim Council of Britain
Osama Qashoo, Free Gaza Campaign
Seumas Milne
Martin Linton MP
Spkr from Dawatul Islam
Spkr from British Muslim Federation

=========================================


=========================================

The American-Arab Anti-Discrimination Committee reiterates it horror at Israel's ongoing military attacks on, blockade of, and massacres in Gaza. ADC repeats its call for an immediate ceasefire and protection for civilians as enumerated by United Nations Security Council Resolution 1860. ADC also reiterates its calls for investigations into Israel's attacks on civilians, alleged use of white phosphorus (which is categorized as a chemical weapon by most governments and its use in civilian areas is banned by the 1980 Geneva Convention. While Israel has not affirmed this treaty, it is a violation of customary international humanitarian law and the laws of war to use White Phosphorus ammunition, an incendiary weapon, in civilian areas), attacks on schools and humanitarian aid workers and organizations. ADC also calls for Israel to allow media outlets to cover the conflict without restrictions.

Earlier this week ADC held a town hall meeting where various ideas and strategies were discussed and considered. In response to direct community input, ADC has extended its hours of operation and community members are encouraged to volunteer their time at the office, which now will be open Monday-Friday from 8am-8pm.

To volunteer, contact: organizing@adc.org
For all media inquiries, contact: laila@adc.org
For legal matters, contact: legal@adc.org

Also, yesterday, ADC held a workshop on "Nonviolence Demonstrations and Actions" which was conducted by Nonviolence International. Participants learned: basic communication techniques; history of nonviolent action; principles of nonviolent action; campaigns for social change, direct action techniques, and coalition building.

CONTACTING CONGRESS AND THE MEDIA

ADC is also planning a number of events scheduled to take place the week of January 12-16. While these events take place, ADC cannot emphasize how important it is for you to contact your members of Congress and members of your local and national media to express your concerns. You can do this anytime and as frequently as you'd like, because Congress and the media need to hear from you.

To contact your member of Congress, see: http://capwiz.com/adc/dbq/officials/
To contact your local and national media, see: http://capwiz.com/adc/dbq/media/

ADC has prepared talking points which you can use with both your elected officials and members of the media, see: http://www.adc.org/index.php?id=3401

ADC also encourages community member to write letters to the editor and op-ed articles in their local and national papers. See link above on how to contact your media, and see these tips from Fairness and Accuracy in Reporting (FAIR) on how to write a letter to the editor or an op-ed: http://www.fair.org/index.php?page=122

DAYS OF ACTION INCLUDE:

-NATIONAL "WEAR YOUR KUFFIYAH DAY": MONDAY, JANUARY 12, 2009

People across the country are being asked to wear your Kuffiyah on Monday. This symbolic gesture will bring awareness to the plight of the Palestinian people. Take a moment to explain to anyone who asks what is happening and has been happening to the Palestinians for the last 60 years and why you are wearing your Kuffiyah.

-NATIONAL DAY OF FASTING: TUESDAY JANUARY 13, 2009

On this upcoming Tuesday people are asked to fast the whole day, refraining from food and water. Further, as a sign of unity, it is asked that individuals donate the amount of money they would have spent on food this day to Gaza Relief. ADC recommends that the donations be made to the following organizations:

United Palestinian Appeal (UPA): http://helpupa.com/
American Near East Refugee Aid (ANERA): http://www.anera.org/

Atlanta Protests Against Israeli Genocide in Gaza
Friends:
The pace of activities in response to the Israeli assault on Gaza has made it difficult to send out the regular weekly International Action Center calendar. This message includes events through Sunday, Jan. 11.
Events that we would have normally publicized were not included in the emergency announcements sent out over the last 2 weeks.
Also next week begins a series of programs celebrating the 80th birthday of Dr. Martin Luther King Jr, culminating in the march on the national holiday, Monday, Jan. 19. The IAC will be sending out more information on these events in the next calendar, especially details of the march.
Calendar:
Thursday, Jan. 8,
7-8pm, Worldwide Prayer Vigil for People of Gaza and for an End to the Violence, North Decatur Presbyterian Church, 611 Medlock Road, Decatur, GA 30033.
Sponsored by Presbytery of Greater Atlanta's Joining Hands for Justice Committee, Worldwide Initiative, YMCA and YWCA of Jerusalem.
For more information, call 404.636.1429
Friday, Jan. 9,
noon-1pm, weekly Stand for Peace vigil, Colony Square, 14th and Peachtree. For more than 6 years, antiwar activists have held a vigil at this busy intersection demanding an end to the war in Iraq and Afghanistan.
Sponsored by WAND.
SATURDAY, JAN. 10, 2PM
CHILDREN MARCH AGAINST GENOCIDE IN PALESTINE
Assemble at Woodruff Park on Peachtree between Edgewood and Auburn

The Israeli ground invasion is causing escalating civilian deaths among the beseiged population of Gaza, especially among children. The horrors of war, lack of food, water, medicines, education and any sense of safety from the constant bombardments are traumatizing to the most innocent whose voices are not heard in the coverage of the Israeli attack on the Palestinian people.
Led by children of all nationalities, join the demonstration from Woodruff Park to CNN to demand Ceasefire Now! End the Blockade of Gaza! Let Palestine LIVE!!

Initiated by Emory Advocates for Justice in Palestine; Athens Justice for Palestine; the International Action Center with the support of many other organizations.

Children and youth under 15 are encouraged to form the lead of the march and to bring their own signs. Parents may accompany young children and those in strollers.
(Woodruff Park is one block from the 5 Points MARTA station. There are several parking decks and lots in the area.)

For more information, e-mail ajp1948@gmail.com
Sunday, Jan. 11 (multiple events)
1pm, monthly walking tour of 1906 Race Riot sites, meet at Gazebo in Woodruff Park (corner of Peachtree and Edgewood). In 1906, a racist mob of some 10,000 whote men and boys empaged through downtown Atlanta, killing and beating scores of Black men, women and children, destroying their businesses and terrorizing the community.The tour covers the hostorical background of the Massacre and its impact on today's political, economic and social struggles
For more information, e-mail ckuhn@gsu.edu
This site contains copyrighted material the use of which has not always been specifically authorized by the copyright owner. We are making such material available in our efforts to advance understanding of environmental, political, human rights, economic, democracy, scientific, and social justice issues, etc. We believe this constitutes a 'fair use' of any such copyrighted material as provided for in section 107 of the US Copyright Law. In accordance with Title 17 U.S.C. Section 107, the material on this site is distributed without profit to those who have expressed a prior interest in receiving the included information for research and educational purposes. For more information go to: http://www.law.cornell.edu/uscode/17/107.shtml. If you wish to use copyrighted material from this site for purposes of your own that go beyond 'fair use', you must obtain permission from the copyright owner.