(CAIR-San Antonio 12/31/08) - On Friday, January 2nd, CAIR-San Antonio along with a diverse group of San Antonio area leaders will hold a PRESS conference dealing with the growing humanitarian crisis in Gaza, to help stop Israeli attacks on the Gaza Strip, restore the cease-fire and promote peace with justice in the Middle East.
The press conference will be followed by a peaceful protest.
<![if !vml]>

<![endif]><![if !vml]>

<![endif]>
Five girls of the same family killed by the Israeli bombs in the Gaza Strip

WHAT: Press Conference.
WHEN: Friday at 11.00 A.M.
WHERE: At the Alamo Plaza, Down Town, San Antonio

CONTACT: Sarwat Husain @ 210-378-9528 or Ali Moshirsadri @ 210-442-7525
Israeli military attacks in the Gaza Strip have left more than 400 people dead and thousands wounded in the past four days. The humanitarian crisis has reached a critical level.

SEE: Washington Post: Food and Medical Supplies Grow Scarce in the Gaza Strip, -and- Haaretz: Delusions of victory in Gaza
CAIR, America's largest Muslim civil liberties group, has 35 offices and chapters nationwide and in Canada. CAIR's mission is to enhance understanding of Islam, encourage dialogue, protect civil liberties, empower American Muslims, and build coalitions that promote justice and mutual understanding.
Sarwat Husain
President
CAIR-SA
210-378-9528
======================================
ONLY 3 U..S POLITICIANS (ONE IS FORMER), ALL FROM THE HOUSE OF REPRESENTATIVES OUT OF 435 REPS (NO ONE FROM SENATE OR WHITE HOUSE) SPOKE AGAINST ISRAEL'S SAVAGERY IN GAZA: REP. DENNIS KUCINICH, REP. RON PAUL, Fmr REP CYNTHIA MCKINNEY
==================================

Israel Violating International Law & the Media Cover-up:

http://www.youtube.com/watch?v=-V-HUF0BNVg&feature=PlayList&p=E35B21A5432844A6&index=0&playnext=1

Here is a tiny URL for the above one:

http://Tinyurl.com/IsraelAttacksGaza

Israel Violating International Law & the Media Cover-up Part 2


http://www.youtube.com/watch?v=m_UKDjgYt30&annotation_id=annotation_877256&feature=iv

Here is a tiny URL for the above one:

http://tinyurl.com/8e7kyu

GAZA MASSACRE PROTEST / ISRAELI CONSULATE in Los Angeles
DEC. 30 '08 / EVENING


http://gallery.me.com/capochic1111#101411


GAZA PROTEST / FED BLDG / DEC 30 '08 / AFTERNOON

http://gallery.me.com/capochic1111#101403

Scroll down to the 'What Motivated the 9/11 Hijackers? youtube linked on the lower right of the following URL:

http://NEOCONZIONISTTHREAT.COM


Sent By James Morris

======================================

It will take all of us to overcome the media distortion & omission!!


We have created a small, two-sided flyer for you to use to inform your town or campus about the current Israeli onslaught against the people of Gaza.

http://www.ifamericansknew.org/download/GazaDec08.pdf

Many Americans, because of distorted media coverage, are extremely confused about what is going on. It is up to us to give them the facts in a clear, concise format.

We feel that informing the American public fully and accurately on the history and current situation in Palestine is the most powerful thing we can do to bring change. Please consider passing these out in the thousands.

These are very easy to print on your computer printer. Below are instructions. If you would like a modified version, we will do our best to provide it.

For more information on Gaza, see
http://www.ifamericansknew.org/cur_sit/dec08.html

Also, for breaking news, go to the links at
http://www.ifamericansknew.org/cur_sit/daily_news.html

Best wishes,
Alison


INSTRUCTIONS FOR PRINTING:

1. Print on a sheet of paper.
2.Rotate paper and print again on the other side. (Printers vary... yours may not need you to rotate it... experiment to see what works.)
3. Cut the paper into quarters. You will have 4 small, two-sided flyers.

We normally print about 25 at a time, creating 100 flyers. If you print these in large quantities (yesterday we made 1,000), you can then take the stack to Kinko's or a copy shop to be cut into quarters. This normally takes 15 minutes and costs under $5.


On Thu, Jan 1, 2009 at 7:52 AM, <ISMinChicago@aol.com> wrote:

***PLEASE FORWARD WIDELY***

Solidarity with Gaza!

Stop Israel's War Crimes Against the Palestinian People in Gaza

PROTEST AT THE TRIBUNE TOWER

WHEN: Friday, January 2nd, 2009, at 3 PM

WHERE: Meet at Tribune Plaza 435 N. Michigan Ave, then March to the Israeli Consulate

Buses available at 1:30 PM at the following locations:

Mosque Foundation—7360 W. 93rd St., Bridgeview

ICCI—6435 W Belmont Ave., Chicago

Islamic Foundation of Villa Park—300 W Highridge, Villa Park

Islamic Center of Des Plaines—480 Potter Road, Des Plaines

Muslim Education Center—8601 N. Menard, Morton Grove

Chicago Islamic Center—3357 W. 63rd St., Chicago

Islamic Center of Naperville--450 Oleson Dr., Naperville

Muslim Community Center--4380 N. Elston Ave., Chicago

University of Illinois-Champaign

Islamic Center of Milwaukee--Milwaukee, WI

Stop the Killing of the Palestinian People!

Stop the War and Siege on Gaza!

End All U.S. Aid to Israel!

End the Israeli Occupation of Palestine!

Sponsored by (list in formation):

American-Arab Anti-Discrimination Committee (ADC)-Chicago, American Friends Service Committee (AFSC), American Muslims for Palestine (AMP), ANSWER Chicago, Arab American Action Network (AAAN), Arab Student Union-Moraine Valley Community College, Chicago Coalition Against War and Racism (CCAWR), Chicago Islamic Center, Children of Palestine, Comite Anti-Militarizacion (CAMY), Council on American-Islamic Relations (CAIR)-Chicago, Council of Islamic Organizations of Greater Chicago (CIOGC), Fight Back! Newspaper, International Solidarity Movement (ISM)-Chicago, Islamic Community Center of Illinois (ICCI), Jewish Voice for Peace (JVP)-Chicago, Mosque Foundation, Muslim American Society (MAS) Freedom Foundation, Muslim Student Association (MSA)-University of Chicago, National Boricua Human Rights Network, Palestine Solidarity Group (PSG)-Chicago, Palestine Humanitarian Aid Project (PHAP), Palestinian American Community Center, Peace Pledge-Chicago, United States Palestinian Community Network (USPCN)-Chicago, Students for Justice in Palestine (SJP)-Northwestern University (NU), SJP University of Illinois-Champaign, SJP-University of Illinois at Chicago (UIC), Wright College Students for Peace and Justice

The following is from young Ahmed in Gaza:

20 days to graduate! 12:50am

It's a simple legal dream to graduate and to start my way in life, i was supposed to graduate in 20 days..maybe i was worried about finding job, regarding the siege here in Gaza and how hard is to find job...
But now it would be silly if i think further than staying safe with my family, 2 nights ago they bombed my university the IUG, i watched my future my hard work is burning infront of me... whatever the reason they say, it doesn't matter, the real reason is the same, to kill to destroy to leave pain.
We have realized long time ago, that being a Palestinian and living in Gaza Strip, is something different, we have to stand the hard situations and keep going, i have big faith we will rebuild the IUG again and i ll graduate, maybe not soon, but it's my ambitious and Israel cant stop that neither by war nor by threatening.

Solidarity with Gaza Meeting

Hosted by the American Muslims for Palestine (AMP)

Where: Al-Aqsa School Banquet Hall, Lower Level

7361 W 93rd Street Bridgeview, IL

When: Saturday, January 3rd, 2009 at 5:00 pm

Admission is Free and is open to the public

Refreshments will be Served

Let us send a strong message of support to the Gazans

All community leaders, organizations, supporters and friends are invited to join us in an evening of solidarity with our Brothers and Sisters In Gaza. Media will be invited as well. This meeting is open to the public and will consist of speeches given by leaders from over 20 activist, peace, civil, and human rights organizations. The purpose of this meeting is to unite all efforts for work on Gaza, Palestine. As you know, this is a huge and just cause that is being portrayed to the world in all the wrong ways by biased media sources. Our mission is to bring truth to the media and to bring justice to the Palestinian people by educating and informing the American public. Without the help of every organization working for this cause, none of the work we do will be very effective. We would be greatly honored if you would come, represent the organization you work for, and speak at this event. It is our responsibility to show the world that there are many organizations and many people that care about this issue and are willing to work very hard for it.

Invited Organizations:

American-Arab Anti-Discrimination Committee (ADC)-Chicago, American Friends Service Committee (AFSC), American Muslims for Palestine (AMP), ANSWER Chicago, Arab American Action Network (AAAN), Chicago Coalition Against War and Racism (CCAWR), Council on American-Islamic Relations (CAIR), Chicago Islamic Center, Council of Islamic Organizations of Greater Chicago (CIOGC), International Solidarity Movement (ISM)-Chicago, Islamic Community Center of Illinois (ICCI), Islamic Foundation in Villa Park, Jewish Voice for Peace (JVP)-Chicago, Mosque Foundation, Muslim American Society (MAS) Freedom Foundation, Not in My Name (MIMN), Orland Park Prayer Center, Palestinian American Community Center, Palestine Solidarity Group (PSG)-Chicago, Peace Pledge-Chicago, United States Palestinian Community Network (USPCN)-Chicago

***********************************************

The Chicago chapter of the International Solidarity Movement (www.palsolidarity.org ) calls upon all of you receiving this e-mail to join with us and all of the other co-sponsoring organizations on Friday-January 2nd in Chicago as we stand-up against the barbaric Israeli assault on the people of Gaza. Take the day off from work or school to stand in solidarity with the Palestinian people. Bring your friends, Palestinian flags and your anger over the war crimes being carried out by Israel with the support of U.S. tax dollars! Stand with the Palestinian people now!

Contact ISM-Chicago at" ISMinChicago@aol.com or 773-267-5198

******************************************************

If you still need a reason to join us tomorrow please see the following (warning-very graphic images):

http://www.maannews.net/en/index.php?opr=ShowDetails&ID=34268

http://www.youtube.com/watch?v=Ojw84Wq8nFE&amp;fmt=6
=
===================================
Help keep the peace in Gaza

I've just heard about this emergency campaign urging for an immediate ceasefire in Gaza. Already 370 people have been killed in this escalating conflict. Now is the time to issue a demand to world leaders that the spiralling violence that has characterized the Israeli−Palestinian conflict must come to an end. In 2009 let's push for real peace to be achieved between Israel and Palestine. To learn more and to take action, read the email below:

As we watch the Gaza bloodshed with horror, appalled at how the crisis is spiralling further out of control, one thing is clear −− this violence will only lead to further civilian suffering and an escalation of the conflict.

There must be another way. Over 370 are dead and hundreds more injured −− rockets are striking Ashdod deep inside Israel for the very first time, and the sides are mobilising for invasion. A global response has begun, but it'll take more than words −− the immediate violence won't end, nor will wider peace be secured, without firm action from the international community.

Today, we're launching an emergency campaign which will be delivered to the UN Security Council and key world powers, urging them to act to ensure an immediate ceasefire, address the growing humanitarian crisis, and take steps to build real and lasting peace.1 Follow this link now to sign the emergency petition and send it to everyone you know:

http://www.avaaz.org/en/gaza_time_for_peace/98.php?cl_tf_sign=1

After eight or more years of ineffective US and global diplomacy −− and now Gaza's bloodiest day in recent memory −− we must issue a global outcry demanding that world leaders do more than make statements if they're to bring peace to this region. The UN, the European Union, the Arab League and the USA should now act together to ensure a ceasefire – which includes an end to rocket attacks into Israel and opening the checkpoints for fuel, food, medicine and other humanitarian aid deliveries.

With a new US President taking office in less than a month, a real opportunity exists to breathe new life into peace efforts. These latest hostilities require not only an immediate ceasefire but a commitment from Obama and other world leaders that resolution of the Israeli−Palestinian conflict is at the very top of their agendas. As the whole world is impacted by this ongoing conflict − we should demand nothing less.

In 2006 we mobilised for a ceasefire in Lebanon. For years we've worked to encourage a just and lasting peace, taking out billboards and ads across Israel and Palestine. Now as we head into 2009, we need to come together again to demand a peaceful and lasting resolution, instead of a further escalation of violence. Follow this link to put your name forward for peace:

http://www.avaaz.org/en/gaza_time_for_peace/98.php?cl_tf_sign=1

All sides to the conflict will continue to act as they have in the past if they believe that the world will stand by and allow them to do so. 2009 is a year that things can be different. As we face this crisis, and the possibilities of a new year, it's time for us to demand a ceasefire and work together to finally put an end to this cycle of violence.

With hope and determination,

Kamyani
On behalf of the Avaaz Group
====================================
End Israel's Attacks on Gaza:
Updated Emergency Action Alert
Israel has killed at least 375 Palestinians through four days of brutal attacks on the occupied Gaza Strip with U.S. weapons in violation of U.S. law. Israeli Prime Minister Ehud Olmert has threatened that this is merely "the first stage."
Israel's attacks come on top of a brutal siege of the Gaza Strip, which has created a humanitarian catastrophe of dire proportions for Gaza's 1.5 million Palestinian residents by restricting the provision of food, fuel, medicine, electricity, and other necessities of life.

Make no mistake about it-Israel's war and siege on the Gaza Strip would not be possible without the jets, helicopters, ships, missiles, and fuel provided by the United States.

From 2001-2006, the United States transferred to Israel more than $200 million worth of spare parts to fly its fleet of F16's and more than $100 million worth of helicopter spare parts for its fleet of Apaches. In July 2008, the United States gave Israel 186 million gallons of JP-8 aviation jet fuel and signed a contract to transfer an addition $1.9 billion worth of littoral combat ships to the Israeli navy. Last year, the United States signed a $1.3 billion contract with Raytheon to transfer to Israel thousands of TOW, Hellfire, and "bunker buster" missiles.

TAKE ACTION NOW

1. Take to the streets and make your opposition public. Thousands of people have already taken to the streets in New York, Washington, San Francisco, Los Angeles, Dearborn, MI and dozens of other cities to protest Israel's attacks on the Gaza Strip. We're maintaining a comprehensive listing of all protests-more than 100 in at least 30 states and 65 cities so far-on our website and updating it continuously. Join a protest near you or organize one and send us the details.

If you know of a protest not listed on our site, send us all the logistical details and contact information by clicking here.

We must keep up the protests until there is a cease-fire and a lifting of the siege of Gaza. We're calling on everyone to continue to organize protests in your community.
2. Educate and organize people in your community. Tonight millions of people will gather in public places around the country to celebrate New Year's Eve.

We are encouraging everyone to attend public events tonight in their communities to pass out information on Israel's atrocities in Gaza and to collect signatures to end U.S. military aid to Israel. Download a flyer by clicking here and a petition by clicking here and make copies.

Also, sign up as a volunteer organizer to challenge military aid to Israel by clicking here and we'll send you an organizing packet with fact sheets, petitions, and the postcards below.


---
3. Contact your elected representatives and set up emergency meetings with your Members of Congress before January 6. Demand from the President, your Representative, and Senators an unconditional, immediate cease-fire; full humanitarian access to Gaza and a lifting of Israel's siege; and accountability for Israel's misuse of U.S. weapons to kill Palestinian civilians. Send your letter today by clicking here.

Congress is scheduled to go back into session on Jan. 6. Until then, many Members of Congress are in their home districts. Assemble a delegation of concerned constituents and request an immediate meeting with them. For contact information, click here. For tips on how to arrange a meeting, click here.

In these meetings, ask your Members of Congress to send a public letter to Secretary of State Condoleezza Rice and make a public statement with the political demands above. To download a sample letter to give to your Members of Congress, click here.

Also give them a copy of our open-letter to President Elect-Obama signed by more than 250 organizations entitled "We Need a Change in Israel/Palestine Policy" to show them that there is growing and widespread opposition to our country's policy of support for Israel's human rights abuses of Palestinians. Download a PDF copy of the letter by clicking here.

If you can take the lead in arranging an emergency meeting with your Members of Congress, please fill out this brief form by clicking here.
---
4. Get the message out to the media. Call in to talk radio programs and write letters to the editors. To download talking points for the media, click here. To find contact information for your local media, click here.
---
5. Step Up the Pressure on the New Administration and Congress. Sign our open letter to President Elect-Obama by clicking here. This open letter will be published as a full-page ad on Inauguration Day. Add your individual and organizational endorsements to it today by clicking here.

Then spread the word by copying and pasting the flash graphic below into your email signature, blog, social networking site, or webpage and join our Facebook group and forward it to all your friends.

Join us in Washington, DC on January 20 for Inauguration Day to say "Yes We Can…End U.S. Military Aid to Israel!" Sign up to help us pass out information and collect signatures by clicking here.

And join us again in Washington, DC for a Grassroots Advocacy Training and Lobby Day on February 1-2 with Interfaith Peace-Builders. Gain the skills you need to change U.S. policy toward Palestine/Israel to support human rights, international law, and equality, and express your concerns directly to your Members of Congress. Space is filling up fast. For more information and to register, click here.
6. Donate more money to us and give less of your taxes to Israel's war machine. Make a tax-deductible contribution today to the US Campaign to End the Israeli Occupation by clicking here. Owe less in taxes for 2008 by making your contribution before midnight (we'll gladly accept your donation in the New Year too) to make sure that less of your money goes to fund Israel's war crimes against Palestinians. Make the most generous contribution you can right now by clicking here.
US Campaign to End the Israeli Occupation
=========================================
LET"S GO & SHOW SUPPORT! Mass March 4 Gaza:
NYC: Saturday, Jan. 3
Stop Massacres in Gaza & Break the Siege!
RALLY AND MARCH!

More than 350 Palestinians were murdered in 2 days. 1,600
wounded!
Act now before it's too late!
Protest against the Israeli genocide against Palestinians!
Stop U.S. Support to Israel!

Saturday January 3rd. - 1 pm
Times Square
42nd and 7th Ave.
Followed by a march to the Israeli consulate
Trains: N,Q,R.S,W,1, 2,3,7 to Times Square

Endorsed by:
Al-Awda: Palestine Right to Return Coalition-NY
Arab Muslim American Federation
MAS-NY (Youth Center), National, Queens, NJ, Yonkers
The General Union of Palestine Students
Bayan-USA
Islamic Society of Bay Ridge
Salam Church
International Action Center
Brooklyn Cultural Center
Hudson Valley Islamic Center
December 12 Movement
New York City Labor Against the War
DRUM
Troops Out Now Coalition
Pakistan USA Freedom Forum
International League of Peoples Struggle
Dawoud Mosque
Muslim Alliance in New America
Masjid Al-Taqwa
Islamic Circle of North America
F.I.S.T.
and many other organizations

New Jersey Solidarity - Activists for the Liberation of Palestine
http://www.newjerseysolidarity.org/
info@newjerseysolidarity.org
973-954-2521
Generation After Generation Until Total Liberation - FREE PALESTINE!
Don't forget to sign the Rutgers University Divest from israeli Apartheid Petition at: http://www.rutgersdivest.org
NJSolidarity-announcements is a moderated, low volume announcements list used to inform the community of upcoming events sponsored by New Jersey Solidarity -- Activists for the Liberation of Palestine, as well as events sponsored by other individuals and organizations participating in the struggle against all forms of oppression.
=========================================
Friday, January 2 at 3:30 pm

Rally at the Israeli Embassy - 3514 International Dr, NW
(Van Ness metro on the Red line; near Connecticut & Van Ness)

Followed by march ending at the Egyptian Embassy
3521 International Ct, NW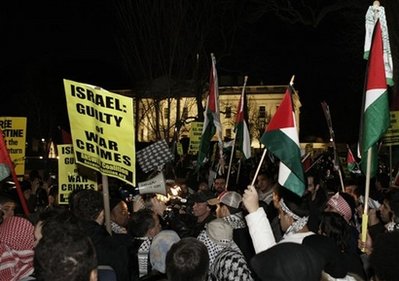 Yesterday, over 5,000 protesters in Washington, D.C.
marched from the State Department to the White House.
Yesterday, tens of thousands of people took to the streets in scores of cities across the country and around the world demanding an immediate end to the bombing of Gaza. In Washington D.C., 5,000 people gathered at the State Department and marched to the White House. Those taking to the streets included many children, teenagers and young adults. As the nighttime march entered the White House grounds, it took over and filled all of Pennsylvania Avenue with young people raising Palestinian flags at the White House fence. For a report on other demonstrations that happened all across the country, please visit the ANSWER Coalition website (see below).

The massacre of the Palestinian people continues. Nearly 400 Palestinians have been murdered. Israel has rejected any ceasefire, and the Egyptian government continues to block Palestinians who are trying to cross the border to escape the massive bombing campaign.

The ANSWER Coalition, Muslim American Society Freedom and the National Council of Arab Americans are calling for all progressive people to come out for a large-scale demonstration at the Israeli Embassy on Friday, January 2 at 3:30 pm. We will then march to the Egyptian Embassy.

Please make an urgently needed donation today.
Please make an urgently needed donation. We need your support to continue this work. Click here to donate online, where you can also find information on how to contribute by check.

Become a volunteer.
Our work is carried out entirely by volunteers. If you would like to become a volunteer, email info@answercoalition.org.

Read a report on demonstrations that were held all across the country.
To read a full report on the many demonstrations that were held in scores of cities across the country yesterday, Dec. 30, visit www.answercoalition.org.
=========================================
The Australian National Imams Council (ANIC) Press Release in support for resilient Gazans people.
Community organisations must send consistent message and accurate demands and facts to the government.
Silence and ignorance KILLS!
Dear all,
Attached is The Australian National Imams Council (ANIC) Media Release RE Gaza Massacre. ANIC is condemning the brutal and disproportionate military action launched by the Israeli Government against innocent Palestinian people, including women and children.
ANIC is calling the Rudd Government to join the chorus of other nations calling on Israel to halt its disproportionate attacks on the people of Gaza and to immediately re-open border crossings to allow the distribution of urgent food, water and medical supplies into the densely populated strip.
Israel's war is not about Hamas and as Israel propaganda machine says in response to the rockets. This war on all Palestinians dream to live in a free country like others; this war is part of Zionism plan of having greater state 'only for Jews'; this war about bringing Palestinians to their knees and accept to live in apartheid cantons.
Sara Roy wrote that "Israel's siege of Gaza began on 5 November, the day after an Israeli attack inside the strip, no doubt designed finally to undermine the truce between Israel and Hamas established last June. Although both sides had violated the agreement before, this incursion was on a different scale.
Hamas responded by firing rockets into Israel and the violence has not abated since then. Israel's siege has two fundamental goals. One is to ensure that the Palestinians there are seen merely as a humanitarian problem, beggars who have no political identity and therefore can have no political claims.
The second is to foist Gaza onto Egypt. That is why the Israelis tolerate the hundreds of tunnels between Gaza and Egypt around which an informal but increasingly regulated commercial sector has begun to form. The overwhelming majority of Gazans are impoverished and officially 49.1 per cent are unemployed. In fact the prospect of steady employment is rapidly disappearing for the majority of the population."
Click HERE and read Sara Roy's article 'If Gaza falls . . .', January 1, 2009.
Antony Lowenstein and Dr Peter Slezak, both are courageous minority Australian Jews who dares to speak out, wrote just that 31/12/2008:
"Vic Alhadeff is a senior Zionist organisation official. His Unleashed article provides an opportunity for analysis that is instructive about our media and intellectual culture. The very persuasiveness of Alhadeff's case for Israel is the reason it deserves attention. It misrepresents the uncontroversial facts and the moral issues at stake.
Israeli victim-hood is the premise on which the public relations machine relies to warrant their military actions. On this picture, a well-meaning, peace-loving Israel offers generous treaties and truces that are rejected by fanatical, fundamentalist terrorists in favour of murdering Jews. The story line is that, finally, Israel had no choice but to invadethe terrorist infrastructure of Hamas. This story can only convince an audience that does not know the facts and these are either falsified or left out altogether by Alhadeff."
Click HERE and read the full article 'Israel no victim' by Antony Lowenstein and Dr Peter Slezak.
Time is due for Australian Muslim community leaders and Imams to bring the Palestine and Zionism issues on those 'multicultural' dialogue meetings.
yourPDFDU has received the following updates from the organisers of Brisbane rally. The details as follow:
Saturday January 3, 2009, at Queens Park is now to begin at 12.30pm, NOT 2pm (which was originally flagged as the starting time).
Be assured Gazans Palestinians will remain resilient. Zionism will be defeated.
YourPDFDU 'Unique and True News of Palestine: Voice of Knowledge and Courage'
Asem Judeh
===============================
<![if !vml]> <![endif]>

Canadian Arab Federation

La Fédération Canado-Arabe

ACTIONS FOR GAZA
The Arab Women's League Presents: No to Israeli Crimes Against Gaza! Long Live Palestine! Candlelight Vigil & Rally, Hamilton, Ontario
When: Wednesday December 31, 2008
Time: 6:00p.m.
Where: Old City Hall, Hamilton, Main St & MacNab St
Demonstration: Stand with Gaza! End Israeli apartheid! In Montreal, Quebec
When: Wednesday December 31, 2008
Time: 11:00p.m.-12:00a.m.
Where: The Pavillon Jacques-Cartier old port of Montreal metro Place d'Armes
http://www.tadamon.ca/post/2358
The Palestinian Association of Hamilton, along with the Hamilton Coalition against the War and the Muslim Association of Hamilton call upon all Hamiltonian's of good conscience, of all walks of life, and of all religious affiliations to join us for a public protest meeting concerning the situation in Gaza. Hamilton, Ontario
When: Thursday January 01, 2009
Time: 8:00p.m.
Where: Hamilton Mosque, 1545 Stonechurch Road East, Hamilton
It is time to stand with the people of Gaza. Join us this Friday for "Save Gaza Vigil" to demand a halt to Israel's murderous assault. Montreal, Quebec
When: Friday January 02, 2009
Time: 12:00p.m.
Where: The corner of Ste-Catherine St. and McGill College Avenue. Montreal, Quebec
Join us in solidarity with the Palestinian people of Gaza and to call for an end to Israeli apartheid. Vancouver, British Columbia
When: Saturday January 03, 2009
Time: 1:00p.m.
Where: Vancouver Art Gallery (Robson side - corner Hornby)
The Association of Palestinian Arab Canadians, Not in our Name - Jews against Israel 's Wars, and other groups, are planning a demonstration against the Israeli massacres in Gaza. Ottawa, Ontario
When: Saturday January 03, 2009
Time: 1:00p.m.
Where: Parliament Hill, Ottawa
End the Siege on Gaza, Protest Israeli War Crimes. Montreal, Quebec
When: Sunday January 04, 2009
Time: 12:30p.m.
Where: Carré Cabot: corner St. Catherine and Atwater, (metro Atwater), Montreal, Quebec
Established in 1967, the Canadian Arab Federation is a national, non-partisan, non profit and membership-based organization. CAF represents Canadian Arabs on issues relating to public policy.
===============================
This site contains copyrighted material the use of which has not always been specifically authorized by the copyright owner. We are making such material available in our efforts to advance understanding of environmental, political, human rights, economic, democracy, scientific, and social justice issues, etc. We believe this constitutes a 'fair use' of any such copyrighted material as provided for in section 107 of the US Copyright Law. In accordance with Title 17 U.S.C. Section 107, the material on this site is distributed without profit to those who have expressed a prior interest in receiving the included information for research and educational purposes. For more information go to: http://www.law.cornell.edu/uscode/17/107.shtml. If you wish to use copyrighted material from this site for purposes of your own that go beyond 'fair use', you must obtain permission from the copyright owner.