Disputes over South China Sea
By Henry D' Souza
Al-Jazeerah, CCUN, August 14, 2012
In June 2012, tensions in the South China Sea (SCS) have been such that uncharacteristically three Chinese officials slammed the US with undue interference.1 China argues that the US is using the dispute on islands in the SCS to "muddy the waters."2 Some argue that this is just a start of a new Cold War, with China replacing the Soviet Union. The questions that arise are: what are the facts, claims and attempts to resolve these maritime issues? Why now?
China claims 80% of the 1 million square miles that make up the South China Sea. Its claim is indicated by a U-shaped line (see Images 2 and 8) which is sometimes referred to as the 9-dotted line or the cow-tongue line, drawn up in 1947.3
SCS is a major route linking the Indian Ocean to the Pacific through which half of the world's trade passes, (see Images 6 & 7) and its oil reserves are estimated to be 213 billion barrels.4 SCS is very shallow in the south-west Sunda platform, (see Images 3 and 4) averaging just 200 feet and very deep, 18,000 feet, in the north-east. The Sea has numerous islands, rocks and reefs, the largest archipelagoes of 200 islands being Spratly and Paracel.5
China's claim is partly historical. During the Han Dynasty (206 BC-220 AD) maps exhibited its claim. To reinforce its hold, China has built a new city, Sansha, which has 1000 residents and a garrison, on 5 square miles of land as part of Hainan province, from which Nausha, Xisha and Zhongsha are administered.6 Branigan reports that this administrative arrangement is used to claim an additional 772,000 square miles of sea.7
China has gone to war to claim the two largest archipelagoes. In 1974, China lost 18 troops when it seized Paracel, (see Images 10 & 15) and in 1992 Da Luc Reef, from Viet Nam. In 1992, China seized 20 Viet Nam cargo ships that brought goods from Hong Kong. This confiscation means that China does not accept that the SCS is mare librum, an international sea route. China has also had armed conflicts with the Philippines in the nineteen nineties over Scarborough Shoal, (see Image 9) Capone off the west coast of Luzon, and Tennent Reef.8 China opposes US declaration of aid to its two main rival claimants, Viet Nam and Philippines.
Taiwan's claims of SCS are almost similar to China's except that it did not recognize the regime in Beijing; it argued that the Kuomintang is the true ruler of mainland China.
However, a Taipei-based journalist Jens Kastner9 reports that China has managed to win over the current Tapei government for support of the "one-China" policy. Taiwan backs China's "undisputed territory," and is militarizing Taiping, which is almost midway between southern Viet Nam and the Philippine island of Palawan. Taiping's runway has been extended to take bigger planes, and Taipei and China have agreed to joint development of Taiping's oil and gas fields.10 Taiping is protected by Taiwanese patrol boats. Rival claimants for the Taiping area are Viet Nam, Brunei, Malaysia, and Philippines.
At first, the territorial claims were fought primarily for lucrative fishing rights and guano. The SCS is fed by large rivers, like Pearl, Red River, Mekong, and Chao Phraya that bring food and nutrients. But mining rights and tourism account for more intense rivalry. China has the advantage over her neighbors, since it built the Jialong submersible which has already made a record-breaking dive of 7020m in the Pacific's Mariana Trench. Another one will be built by 2015. Jialong's base will be Qingdow in East China's Shandong Province.11 China can now scour the sea-bed for "rare earth" minerals without local opposition or even knowledge.
There are several nuances to China's claims. First, the historical principle which for China is longest and goes back to records of the Han dynasty (206 BC - AD 220). In support for its claims, China also cites international treaties like the Treaty of Paris (1898), Treaty of Washington (1900), and post-1945 treaties.12 Since the islands in the SCS are remnants of the sunken Sundaland, there was a time before 206 BC when oceans belonged to no nation and open to all seafarers. This is what the US wants, the right of navigation. China too would benefit from agreeing to this principle since it needs the Malacca Straits open for its shipping.
Secondly, the disputes in the SCS show the weakness of international rules that were dictated by powerful nations. The idea of a 12-mile sovereign limit, 200 nautical miles which are designated as Exclusive Economic Zones (EEZ) and include the continental shelf, may be sound for some nations but not for others where there is considerable overlap. (See Image 5) Smaller nations should exert their influence in forming international culture, else they will be losers. These rules are governed by the UN Convention on the Law of the Sea (UNCLOS) and the International Tribunal for the Law of the Sea (ITLOS). China wants to avoid these bodies since she stands to lose territory; she wants to negotiate on a one-to-one basis.13
This failure to include representatives of all nations in international fora accounts for several maritime disputes: Yemen and Eritrea over Dahlak Island; Saudia and Yemen over Farson Island; Qatar and Bahrain over Hawar Island; Iran and United Arab Emirates over Tunb Islands; Egypt and Sudan over Hodeida Triangle; 14 and, Britain and Argentina over Falkland Islands. Other disputes near the SCS are between Japan and China over Senkaku/Diaoyu Islands; (see Images 12, 13, 14, 16 & 17) Philippines and China over the Scarborough Shoal; Japan and Russia over the Kurils; and, Japan and South Korea over Takeshima/Dokdo Islands respectively. (See Image 18)
Washington has responded to China's "continuous enhancement in maritime patrol," "various surveillance operations near Japan," and its increasing military strength. US Defense Minister Leon Panetta15 promised military aid to Philippines to "maintain a credible defense position: a squadron of F-16s, (see Image 11) 2 de-commissioned coastguard ships, a coastal radar system, and an increase of American troops on Philippine soil.16 At the 2010 Asian summit, Secretary Hillary Clinton said that the US had "national interest" in the SCS.17
However, President of the Philippine Association of Chinese Studies Professor Rommel Banlavi warns that China's military strength is greater than all the ASEAN countries combined.18 Banlavi implied that confrontation is not advisable. Two years ago, in 2010, Philippine Foreign Secretary Alberto Romulo declared that the US was not needed in its dispute with China.19
China, for different reasons, takes the same stance: if China wants to lead Asia and other developing countries, make the yuan as competitive, if not more, than the US dollar, and then lead the world not just in the Olympics, then it has to be a model leader, especially with its neighbors. China also sees that the US is trying to weaken it in several spheres: Senator Chuck Schumer tried to block China's purchase of a Canadian energy company, Nexen. The US is backing Japan, South Korea, Viet Nam and the Philippines, all Chinese neighbors, militarily. As the US did not obtain Chinese support in the UNSC when trying to oust Syria's leader, Basher Assad, China expects some sort of retaliation.
Ironically, it is this American pressure that accelerated China's resolve to implement the Code of Conduct, and "ease the ASEAN rift." China's Foreign Minister Yang Jiechi visited Brunei and Malaysia to settle territorial issues. Hitherto, China had persuaded the Chairman from Cambodia to exclude territorial issues from the 2012 ASEAN summit in Phnom Penh.20 Unlike Japan that wanted its dispute with South Korea to go to the International Criminal Court, China refused international interference. China is likely to settle its maritime issues with Viet Nam and Philippines sooner than later as it declared its willingness to work through ASEAN.
It is not too difficult for the nations bordering the SCS to reach an agreement amicably. At a first level, bi-lateral agreements can be reached. At the next level, compromises will have to be worked out between ASEAN and China. Finally, the contestants can jointly agree on rules that will be administered by a SCS Tribunal. If there are still issues to be decided on, then they can be referred to the ITLOS. In any case, fishermen, who do not have geo-positioning equipment, should never be imprisoned even if they are forced by bad weather or other circumstances to cross international boundaries in the SCS; an illegal catch can be confiscated, but the fishermen should be set free by the patrol boats. The system should not inadvertently drive fishermen to depend on piracy, as it did in Somalia. It is obvious that the rules should ensure freedom of navigation in the SCS.
Former Australian deputy defense secretary and current Australian National University strategist Hugh White has seen the light. He sees two tipping points, one has been reached and the other is still years ahead. China has achieved "sea denial" with its missiles, subs and satellites, with the result that the US cannot threaten it with an aircraft carrier, as it did with Iran in the Gulf of Hormuz crisis. The second change, which is yet to come, is that China, as with India a little later, will soon have a larger economy than the US. These tipping points mean that Australia has to adjust its foreign policy by accommodation rather than challenge.
Henry D' Souza, Mississauga, ON, Canada
IMAGES
<![if !vml]>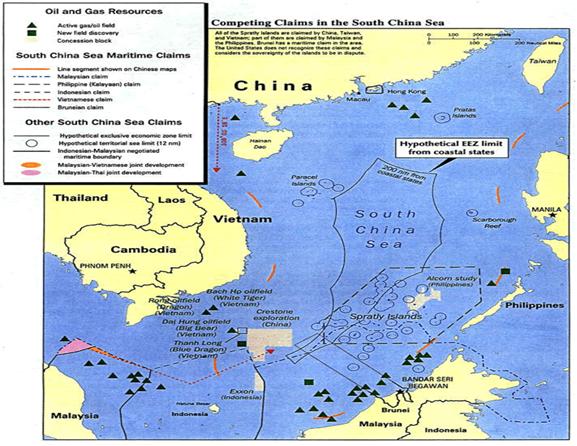 <![endif]>
<![if !supportLists]> 1. <![endif]> South China Sea
<![if !vml]>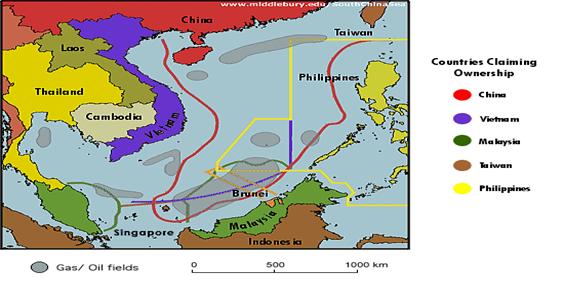 <![endif]>
2. The U-shaped line/ cow tongue dotted line
<![if !vml]>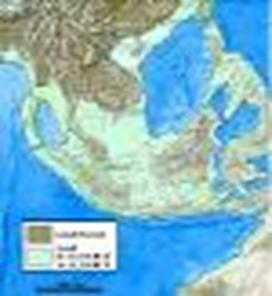 <![endif]> <![if !vml]>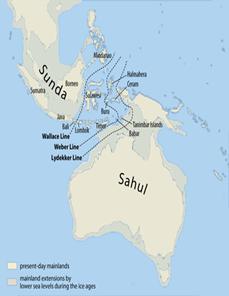 <![endif]>
3. Legendary Sundaland which sunk around 23,000 BCE 4. Shipping routes across Sundaland
<![if !vml]>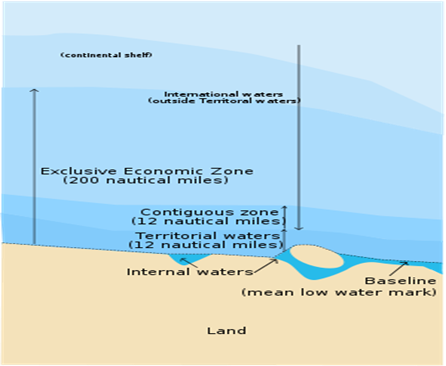 <![endif]>
5. The UN Convention of the Law of the Sea (UNCLOS) sets standards for territorial claims
<![if !vml]>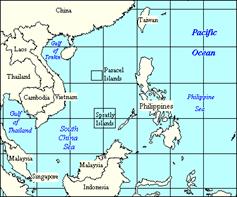 <![endif]> <![if !vml]>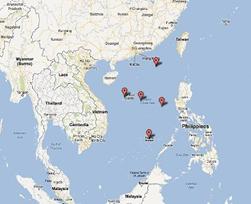 <![endif]>
6 & 7. South China Sea leading to East China Sea and then to the Pacific Ocean, hence claim for "freedom of navigation"
<![if !vml]>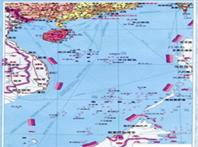 <![endif]> <![if !vml]>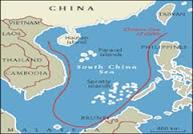 <![endif]>
8. China calls its claim the 9-dotted line or U-shaped line or Cow-tongue line
<![if !vml]>
<![endif]> <![if !vml]>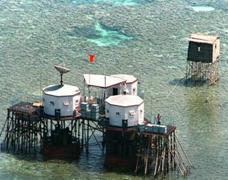 <![endif]>
9. Scarborough Shoal/Panatag/Huangyan Is. 10. Spratly Is. development
<![if !vml]>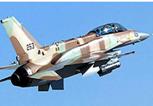 <![endif]> <![if !vml]>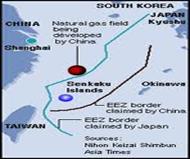 <![endif]> <![if !vml]>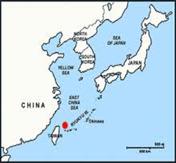 <![endif]>
11. F-16 12. Senkaku/Diaoyu 13. Senkaku/Diaoyu
<![if !vml]>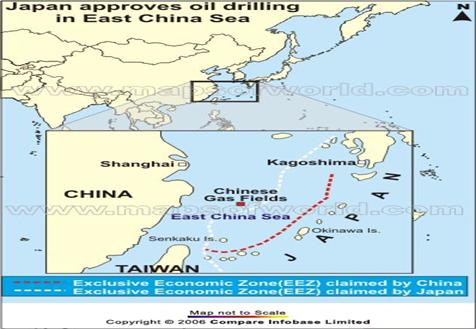 <![endif]>
14. Senkaku Islands/ Diaoyu
<![if !vml]>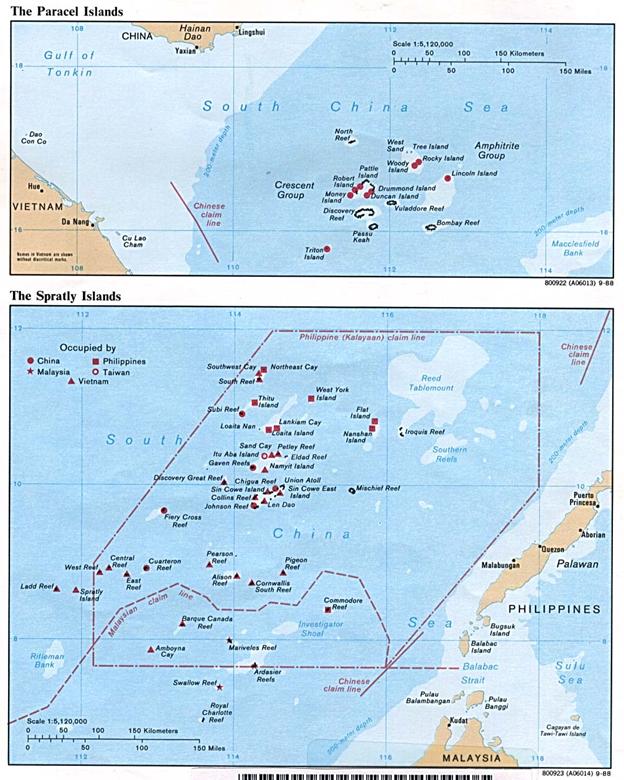 <![endif]>
15. Paracel and Spratly Islands
<![if !vml]>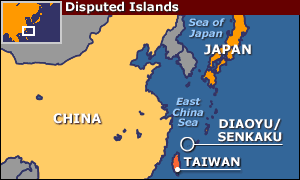 <![endif]> <![if !vml]>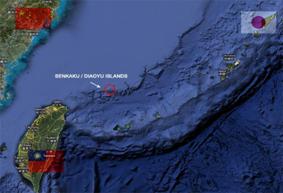 <![endif]>
16. Senkaku (Japan)/ Diaoyu (China) 17. Senkaku/Diaoyu Islands
<![if !vml]>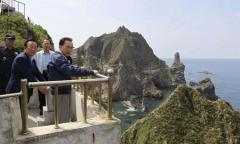 <![endif]>
18. Takeshima (Japan)/Dokdo (South Korea)